Every month, the planets change signs and affect our relationships. Depending on the planetary movements, it may be tough to understand the needs and desires of the Taurus man. But with my tips based on the monthly energy, you can draw the attention of a Taurus man or improve your relationship with one in October 2020.
Attracting a Taurus Man in October 2020
1. Be Pleasant to Be Around
If you thought that the Taurus man just wanted a "stay at home and cook" kind of woman, October 2020 will show you another side to this comfort-oriented man. 
Behind his love of tradition, safety, and security, there is a man who loves to talk, to wine and dine, and to spend time celebrating and admiring his fellow acquaintances and art. 
For starters, from October 1 until October 22, the Sun will be transiting the seventh Zodiac sign of Libra. In astrology, Libra season represents a focus on relationships, fairness, and cooperation. As the sign of balance, partnerships, and marriage, Libra season encourages you to reach out and connect. 
For the Taurus man, during this three-week period the harmonious Sun in Libra will highlight his sixth house of order and wellness. The sixth house is also the house of domesticity and daily routines. 
While the Sun spends the first three weeks of the month transiting the Taurus man's sixth house, he may be feeling more domestic and nurturing to his co-workers and family members than normal. This is a period where he wants to spend quality time with those he loves on a daily basis. 
However, with the sixth house ruling mental health and order, it's essential to the Taurus man that the woman he dates be enjoyable to be around. He wants someone that he considers good for his health. 
For example, if you like to argue or stir up drama for no reason, the Taurus man will not be attracted to you. Instead he is most attracted to the peaceful woman who can put fires out instead of starting them. 
Beginning on October 22, you may notice a slight change in the Taurus man's actions as the Sun visits his sister sign of Scorpio until November. 
During this four-week period, the Taurus man's focus will go from serving those around him to focusing on any relationship issues on-on-one. Scorpio season inspires him to reconnect to his emotional self. 
If you want to attract a Taurus man once the Sun moves into Scorpio, take the direct approach. Wait until the time is right and make your move! Don't hold back. He can handle it. 
2. Get Active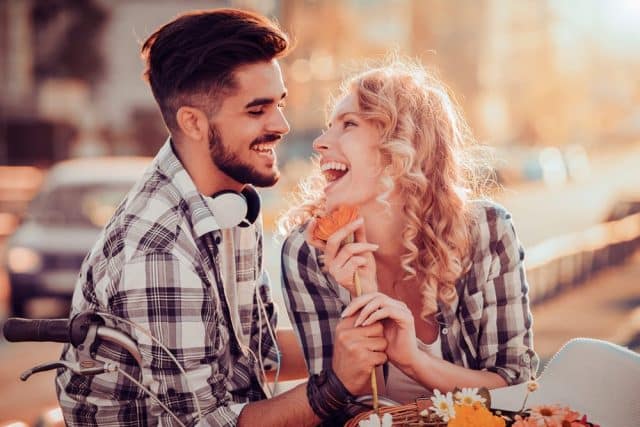 When it comes to love and romance in October 2020, the Taurus man is grounded and relaxed. Instead of keeping things private and lowkey like last month when Venus was transiting his fourth house of privacy and home, this month he's ready to let his passionate love ring out loud. 
With Venus in Virgo entering the Taurus man's fifth house of pleasure and romance on October 2, the Taurus man is more active this month than he's been in the past six months. This is the transit where he begins to engage with society and explore love in a more spontaneous way. 
In astrology, the fifth house represents children and youthfulness. So naturally with Venus, the planet of love and beauty, in practical Virgo until October 27, he wants someone reliable, playful, and giving. Someone he can laugh with and let loose. 
During this period, focus on building a healthy friendship with the Taurus man. Even if you are already dating, take advantage of his more open-minded nature and explore new things. 
Instead of asking him what he wants to do all the time, take matters into your hands and plan the date! With Virgo's meticulous and detailed-oriented vibes, this is the perfect time to pull out your creativity hat and show the Taurus man that you are more than just fun and games. You can get active. 
Whether you get active in the bedroom, on the hiking trail, at the poker table, or in the kitchen is up to you! But whatever you do, show the Taurus man that you are willing to jump in and go with the flow. Show him that you're mature enough to roll with what's happening at the time. 
3. Take Responsibility for Your Thoughts and Actions
I know the one thing every Taurus man struggles with is owning up to his mistakes—all stubborn fixed signs like Scorpio, Aquarius, and Leo do. 
But this month is particularly special for the Taurus man. Because starting on October 13, Mercury, the planet of thought and communication, will station retrograde in Scorpio for the last time in 2020.
When Mercury stations retrograde, anything having to do with the slick-tongued planet appears to slow down. For example, you may have trouble sending emails, carrying out simple conversations, or signing a contract. 
On the other hand, for the Taurus man, Mercury's retrograde in his sister sign of Scorpio focuses deeply on his relationship to self and others. 
This is because Mercury retrograde not only shows you what is broken, but it also offers a chance to tune in and connect with the subconscious mind. It gives you an opportunity to review your decisions over the past three months and rectify. Think of this like a quarterly mental check-in. 
This time, instead of focusing on just his mental challenges, Mercury retrograde in Scorpio will illuminate the Taurus man's seventh house of relationships and marriage. 
With Mercury retrograde in his seventh house, the Taurus man is deeply in tune with any challenges or barriers blocking your relationship with him. Naturally, he will want to do what is necessary to overcome those blocks.
At the same time, be mindful that Scorpio is an intense water sign, and with Mercury in Scorpio until December 1, the next two months of attracting a Taurus man require patience and deep emotional responsibility. He is most attracted to the woman mature enough to own and fix her mistakes. 
Read next: Subtle Signs a Taurus Man Likes You – Don't Miss It!
4. Open to a Fresh Start
If you find that the Taurus man is more isolated or withdrawn in the beginning of the month, give him his space to work through any intense feelings that may be coming up from the Aries full Moon. 
The full Moon in Aries on October 2 illuminates the Taurus man's twelfth house of healing and ending. This lunation encourages him to say goodbye to what is no longer working and finally embrace the new beginning that awaits him. He's ready to turn over a new leaf. 
So when it comes to attracting the Taurus man in October 2020, know that he is not looking for someone who reminds him of his past or old hurts. 
For maybe the first time in a long time, he will want something new and rejuvenated (even within the same relationship). No matter what, something has to change. 
The woman who respectfully embraces the change unfolding in his life and encourages him to keep going will win more than his heart. To the Taurus man, a woman who follows his lead deserves commitment, loyalty, unconditional devotion. 
If you want to see what it feels like to be adored by the Taurus man, just help him heal and prepare for a new future. Be a gentle reminder that even in times of uncertainty, he always has a friend.
 He will thank you for life, trust me! 
Overall, if your goal is to attract the heart of a Taurus man in October 2020, focus on being enjoyable to be around, getting active, taking responsibility for your actions, and most importantly, keeping an open mind. 
Remember, the Taurus man is building a new normal in October. So if you want him, you'll need to fit perfectly into his new vision and life plans! 
For those who are ready to dive deeper and start your journey to unconditional love with a Taurus man, my guide Taurus Man Secrets is better than any daily, weekly, or monthly horoscope app you'll ever read. 
Instead of just giving you the basic knowledge of the Taurus man, I share real-life stories and examples of women who have been where you are and now have the relationships of their dreams.
In this intuitive guide, I'll share with you my top secrets for winning the heart of the Taurus man. If you're ready, purchase Taurus Man Secrets here.
And why not take my free love and compatibility quiz to find out if you and your Taurus man are a match?
I'd love to hear your results in the comment section below!
Your sister and relationship astrologer,
Anna Kovach 
---
---