Taurus men are extremely likable and make some of the best partners a woman could ever ask for. These guys are sweet, kind, and nurturing, and love to make a woman feel safe and secure. But how can you TELL if a Taurus man ACTUALLY likes you in that romantic way?
Now let me tell you something… it's worth figuring out the signs if a Taurus man likes you or not. I mean, if YOU are interested and you want him to like you, too. That's really worth it because being loved by a Taurus is one of the best things in the world. And falling in love with a Taurus is so easy, too. They're sweet and kind, and they're always thinking of ways to please you.
But getting them interested requires UNDERSTANDING him on a deeper level (don't worry we'll talk more about that later). For now — let's look at the 20 signs that you already caught his attention.
Just so you know, it's okay to be a bit confused — Taurus men usually hide their emotions unless something else is making them (maybe he already has someone or is afraid of being rejected by you since he doesn't think YOU like him).
They can be shy and hide things from people who they feel can let them down (trust and comfort are a MAJOR factor), so these signs may help you know if that Taurus guy is into you.
How To Know If A Taurus Man Likes You
When you are first getting to know someone, you can never quite tell if they like you or not, and this case is especially true when it comes to a Taurus man. He is quite shy and coy actually, so he may be playing it cool.
A Taurus man does this weird thing that when he is actually interested in a woman, he will kind of pull away, and this is because he is so afraid of getting hurt.
You need to be patient with him and let him warm up to being more vulnerable, but here are some of the signs a Taurus man might be interested in you romantically:
6 Clear Signs A Taurus Man Likes You
1. He Asks You Some Personal Questions
Taurus men aren't the type to go around getting to know everyone on a deeper level unless maybe he was born right on the Taurus/Gemini cusp. As a general rule, though, these guys aren't super chatty and they prefer to avoid "filler conversation."
That said, if you find yourself in the company of a Taurus man who just can't seem to get enough of hearing about your childhood and those slightly fuzzy college days you reminisce about now and again, you know he wants to deepen your relationship.
He may not be as open and giving with his own history right off the bat, but in time he will open up and share his hidden side with you. When a Taurus man asks you personal questions, it is a very good sign that he enjoys spending time with you and may want to take it further in the future.
Here's more on what every Taurus man wants in a relationship <<
2. You Make Him Feel A Little Nervous
It's usually pretty obvious when a guy is nervous around you. He will fumble with his words, become clumsy, maybe even start sweating a little. Taurus men are generally confident and are not easily shaken…unless his crush comes in and shakes up his world, at which time he may momentarily show signs of being nervous and unsure of how to act around you.
This isn't something that will last very long, but in the initial stages of your relationship (like the first couple of times you meet), if your presence seems to be intimidating to him or make him nervous, it's a safe bet that your Taurus guy is totally into you.
If he acts a little awkward and nervous then you know that your presence does something to him that drives him crazy. He likes you and spending time with you makes him a little nervous. How sweet!
3. He Laughs At Your Jokes
Taurus men tend to have a great sense of humor and they enjoy a good joke. If you are the type to tell jokes or if you just have a feisty sense of humor, there's a good chance that's a big part of what attracts that Taurus guy to you in the first place.
When you find someone whose sense of humor matches up with yours, it's a really awesome kind of connection and not one you want to lose.
So, if you notice your Taurus guy is always laughing at your jokes, even the ones that aren't all that funny, it's safe to presume that he wants to be more than friends. He likes being around you because you make him feel good.
What's awesome about this sign is that you kind of already know this relationship is going to be fun, being built on humor and all. Who doesn't want to be in a relationship where there are constant laughs and a good time?
4. He's Investing His Time In Building A Friendship With You
Taurus guys do just about everything slowly, or at their own pace, and they really do value their time. Time is money, and money is king, so if a Taurus man is investing his time in getting to know you and building a friendship with you, you know his intentions are genuine. You have the potential to mean something special to him.
The time he's investing now in getting to know you and becoming closer as friends is something your Taurus guy is hoping will provide a positive return for him (i.e., your companionship in the future). He doesn't like wasting his time on people and seems to think that you are a worthy investment.
This can be a really sweet gesture, but if you aren't that into him, you should probably let him know before he invests too much time in a relationship that's headed nowhere. A Taurus man will always respect you for your honesty and truthfulness.
5. He Singles You Out When You Are In A Group
If a Taurus guy likes you, he will do his best to separate you from others you may be hanging out with. He is more of a one-on-one type of person and hates the awkwardness of others watching him when he is into a girl.
Whether it's an invite to watch the sunset on a balcony or maybe a dock outside, or if the two of you smoke and he asks if you want to go out back with him for a smoke, if you've been crushing hard on him this is your moment to shine!
It can be especially hard to know how your Taurus crush feels about you when the two of you are friends and hang out in the same circles.
When he pulls you away from the group, you get the chance to get to know each other a little better, and it's a clear sign that he's interested in more than what is happening between you right now. This is your chance, but let him take the lead!
6. He Holds Your Hand In Public
Handholding is one of the sweetest things a couple can do, especially those little old couples you see walking down the street hand in hand who've been married for 57 years or something crazy like that.
I always stop and ask those types of couples what it is that's held them together and not all that surprisingly, I seem to always come back with the same sets of answers.
One of the things I've been told that the fundamental keys to building a solid relationship that will last the span of your life together is actually hand-holding, believe it or not. There is scientific research that indicates holding hands with your partner does everything from lowering your blood pressure to relieving anxiety and just making us happier, overall.
If you're into him and he reaches out for your hand, take it. This could be the start of a long and prosperous relationship.
Not only all of that but hand-holding can actually extend your lifespan when you're in a happy relationship…there is more than you thought to this sweet romantic gesture!
Taurus men have one of the most specific love languages of all zodiac signs. I have covered his entire astrology love profile in my Taurus Love Language guide. I suggest you get your copy if you really want to master his love language and finally connect with him in the right way.
4 More Signs A Taurus Man Has A Crush On You
A Taurus man is known for being shy, despite the confident mask he wears to the world. And this is especially true when he finds himself crushing on someone he really likes. He doesn't just go for her, instead, he takes his time and patiently waits to make a move.
This can be a little frustrating and leave you feeling like you don't know where his mind is at. But just remember that men go at a different pace than women and Taurus men go even slower than all the other guys in the Zodiac, but here are a few signs a Taurus man has a crush on you:
7. The Way He Looks At You Says It All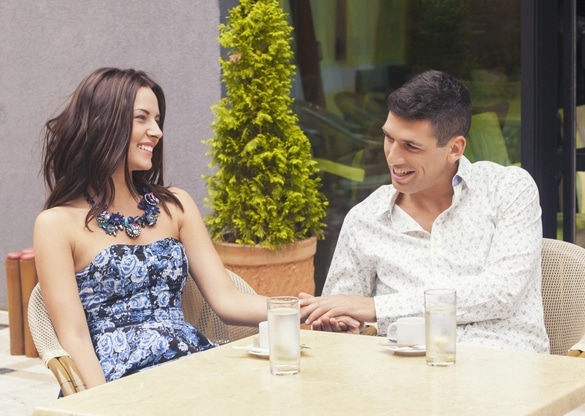 If you find your Taurus guy making eye contact and generally acknowledging your existence, this is a good indication that he's at least a little bit intrigued by you. By looking a little deeper into the way he looks at you, it can reveal so much about your Taurus guy's feelings and intentions toward you.
His ascendant (or rising sign) will have a lot to do with how your Taurus presents himself, especially at first. He may have Aries rising and be confident, excited, and full of energy and passion, all of which will come out in the way he looks at you.
Or, he may have Capricorn rising and be very reserved, shy, and perhaps even a bit apprehensive in how he examines you with his eyes. Once you've gotten past his initial "look," take a moment or so to really visually connect with him. Then, trust your intuition.
When a Taurus man likes someone, he gets a sort of sparkle in his eye, you can tell he's excited and wants to know more. A Taurus man loves to covet things, and you might be one of them! Pay attention!
8. He Will Pay Attention To Details About You
Let's face it; most guys have the tendency to zone out from time to time, or in some cases, all the time. It's really no big deal until you run into miscommunications where he's telling you, "You never told me that," when in all actuality, you know very well that you did.
This happens in just about every relationship and you learn how to deal with it in your specific situation the more you get to know your guy and how his mind operates.
When a Taurus guy is into you, there is none of that zoning out, in fact, he will be dialed in to you and what you've got to say 100%. This can be nice if you aren't used to it, and it is a huge signal that he has feelings for you, otherwise he wouldn't be nearly so attentive and communicative.
That said, be careful what personal stuff you share in the early stages of your relationship because the odds are whatever you say to him now will stay in his memory banks pretty much forever. He notices things that others don't and unfortunately, a Taurus man can get turned off pretty quickly if he doesn't like what he hears.
This Taurus trait can be especially wonderful when he surprises you by getting your favorite super complicated coffee order correct without even having to ask!
9. He Takes Time To Develop Your Relationship Slowly
There are few things in this world greater than that feeling of falling hard in love with someone at first sight.
That rush of emotion and the feeling of being so intricately connected to this other person is a huge rush and, some say, it causes you to lose all concept of logic for a moment or two.
With a Taurus man, you may get this rush of feeling, but you won't often find a Taurus who's all about rushing into a relationship. He needs to go at his own pace or else he may feel rushed into something he isn't ready for.
Taurus guys take their time doing everything, and rushing is simply something that isn't done. This is especially true when it comes to meaningful relationships.
With that said, if you feel like things should be moving more quickly, but you're still pretty sure he's into you, look at this slow progression as his way of ensuring your relationship is built on the sturdiest of foundations.
This means he really likes you and wants to take his time savoring every detail of getting to know you. You're a lucky girl because when a Taurus man invests his time it means he is pretty serious.
If you would like to look out for the surefire signs about Taurus man intentions about you, check out my recent blogpost.
10. He Shows His Flirtatious Side To You
I know, I know…that one is obvious, but is it, really? Taurus men have a flirting style all their own–One of the things about bulls that fascinates me still is that you are never sure if he is actually flirting or if he is just joking around?
Does what he just did mean he digs you or did he just have something in his eye? The world may never know, and you won't know if you don't take action!
Don't get me wrong, Taurus men can be so sexy and very seductive when they want to be, but they can also be nervous and unsure of themselves.
After all, Taurus does rule the 2nd house is astrology, meaning your bull is probably pretty financially savvy, but he may also have some self-image/self-esteem issues deep down in there to deal with. These can come out sometimes when he's trying to flirt.
Those failed flirting attempts come across as adorable, yet confusing actions that all amount to him having a crush on you. There are times, too, that your Taurus guy might do something like telling you to just keep his stapler & he will get himself another.
That way you don't have to worry about not having one anymore (this takes place in whatever setting you may be in where you would ask him to borrow a stapler). This simple act of kindness is a form of earthy Taurus flirtation…I swear it is.
A Taurus man flirts by giving and being generous. It is actually quite endearing! Learn more on how to flirt with a Taurus man effectively <<
What Does It Mean When A Taurus Man Teases You?
This takes us back to elementary school when that mean little boy who threw rocks at you would torment you all because he had a crush on you. Taurus is just the second sign in the "lifecycle" of the zodiac, so there is a part of him that will always and forever think like a little boy.
If he picks at you in a flirty kind of way, it's usually a sign that he's way into you. And, what's nifty about Taurus guys is that being a kind of conservative earth sign ruled by Venus, he isn't going to take it too far.
A Taurus man is totally the little boy who is mean to the girl because he likes her. He wants to show you affection but might feel a little awkward doing so. He'll never be malicious, it is not his style, but he will tease you about something to make you more vulnerable to open up to him.
In other words, he's hoping to get positive attention from this, and the flirty back-and-forth banter can be really fun!
5 Obvious Signs A Taurus Man Is Sexually Attracted To You
One of the nicest things about a Taurus man is his sensuality. He is so affectionate and shows his feelings through being physical. He loves touching his woman and making it known to her how much he adores her.
Here's all you need to know about Taurus men specific love language <<
If a Taurus man is touching you or getting physical with you, then he most definitely likes you. But let's explore some of the signs your Taurus man is sexually attracted to you:
11. He Gently Places His Hands On The Small Of Your Back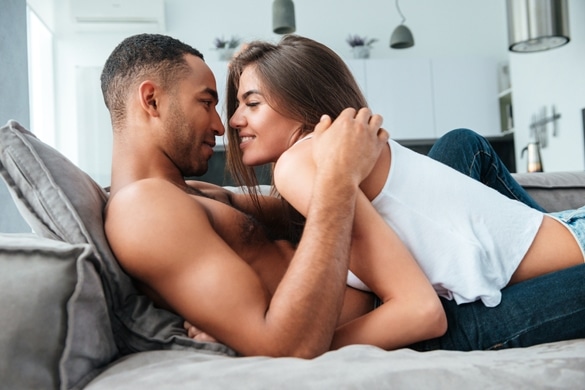 This is, I think, the universal signal for "she's mine," and all men out there recognize it. Women, too. This is one of the nicest feelings in the world.
It can be a very comforting sensation when your Taurus guy comes up and places his hand there on the small of your back, it makes you feel desired and feminine and protected all at the same time.
It's kind of weird when you think about it, how one tiny gesture can create so many feelings and emotions in an instant. You might feel like you belong and are safe around him.
Now, you may or may not want him to be so hands-on so fast, and if this is the case, you'll want to set your boundaries for physical contact as soon as possible.
If you are into feeling his hands on you at this point, this is your signal that things can go further if you want it to happen. The ball is in your court now, it's time to show him how you feel.
12. He Finds Little Reasons To Touch You
This one may sound a little creepy at first, but there is a method to my madness, I promise. There are a lot of different situations where you brush up against someone or your hands bump into someone else's throughout the day, and as long as you don't make it awkward, it isn't.
When a Taurus man is sexually attracted to you, he'll find extra ways to brush up against you or have his hand bump into yours. If you work together, he may take up the same schedule or routine as you, or do things that place him in tight spaces where you'll be.
This still sounds a little weird, I know, but it really isn't. You can trust that if he is finding reasons to touch you, he definitely has it bad for you.
Taurus men are SO HOT in bed and oh so sensual… but also raw. They like the physical and if you can push his buttons — wow. He will be so drawn to you, not just thinking about you but having that kind of raw, animal desire for you, and only you.
A Taurus man needs touch to feel an intimate connection with someone. It is of the utmost importance for him, he is touching you because he wants to see how you respond and if you are open to his advances or not.
13. He Tries To Get Close And Physical With You
Taurus men are respectful and gentlemanly guys, but they are still guys and, when you get down to it, they are a sensual lot who really enjoy the pleasures of the flesh…preferably your flesh (I didn't realize until I typed it how creepy that sounds, but you know what I mean).
A Taurus man will wait to try and take things to the next level until they are relatively sure that you are into it, and until he's sure that he's totally into it.
Once this has been ascertained, however, he can be quite the sexual force in the best possible way! It seems rather obvious, but physical intimacy is a huge sign that he's way into you. It means that he likes you enough to want to get closer to you. Enjoy!
14. He Texts You Something A Little Saucy And Risqué
Taurus guys may not be super vocal about their feelings and desires, but via text, you might find that he is totally into sexual innuendo and getting his flirt on with you. He definitely knows how to get a little spicy from time to time.
It may be easier for him to be sexually suggestive or make sexy comments in person, so pay attention to what your Taurus guy says via text.
If a Taurus guy sends you something seductive, he is definitely interested in you on a sexual level. He is planting a seed and seeing if you are going to water it. The next step is up to you…
Find out right here how to flirt with a Taurus man over text (with cute and clever examples) <<
15. He Makes Note Of The Chemistry Between The Two Of You
You can tell when there is chemistry between you and a guy, you may not be able to describe it, exactly, but you know it when it's there.
Chemistry is what attraction and lust are made of and finding someone you share perfect chemistry with is both rare and incredibly amazing.
If you feel that spark of chemistry between you and your Taurus man, consider yourself one of the lucky ones. If he makes mention of it, consider yourself one of the incredibly lucky ones!
You won't have to question his feelings for you with all that Venusian energy combined with the chemistry you both notice. Just be careful with this kind of connection and guard your heart.
It's easy to fall so deeply in love because of the chemistry that your heart gets set in a position where it could easily be broken. Don't rush things. Enjoy the experience!
Taurus Man Can Be A Little Shy — Here're The Signs He Secretly Likes You
16. He Makes Very Apparent Eye Contact With You
Taurus men are usually pretty shy and they often will avoid making eye contact with people in an effort to get away without having to engage in meaningless small talk.
On the other hand, when a Taurus guy wants to get to know you better, or if he's just mesmerized by your energy, you'll notice him making intentional eye contact with you more than just once or twice.
So, what do you do when you find a Taurus guy locking eyeballs with you? If you're into him you'll definitely want to acknowledge his existence and look him right back in the eyes. Not in an aggressive way, but in a sexy, come-hither kind of way.
Now that you've locked eyes with your Taurus guy, it's important to notice the way he looks at you. Is he looking at you with desire, is he looking at you with passion burning in his eyes, or is he looking at you tenderly with love and possibly imagining a bright future the two of you could have together?
17. He Shows You How He Feels About You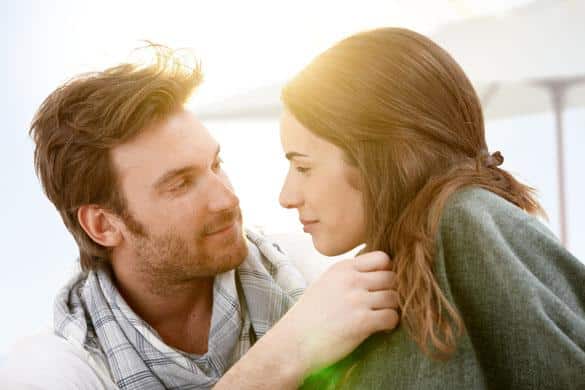 Taurus guys are tactile creatures who, unlike their Gemini neighbor, aren't always so great with words. A Taurus man is a lot of things, but when it comes to verbal communication it definitely isn't his strong suit.
He can speak eloquently and if you give him enough time to formulate a response, he can drop the mic on almost anyone, but when it comes to going through the process of sharing his feelings, your Taurus man would probably rather just show you through his actions.
Anything, when done with the right intentions, can be a show of affection or attraction.
From washing your car to refilling your coffee cup or giving you a ride home, when a Taurus guy likes you, he will make sure to be available when the time comes that you could use someone coming to your rescue, even if he is rescuing you from a dirty car or an empty coffee mug.
All of this is in the hopes to show you that he wants to get closer to you and that he feels something deeper for you. Don't listen to what he says, pay attention to what he does.
Learn more on how to communicate with a Taurus man <<
18. He Invites You Over To "Chill"
You may not realize from his hard work ethic and practical sensibilities that your Taurus guy has a definite lazy streak. I have yet to meet a Taurus, male or female, who didn't. He loves to relax and just be comfortable.
The time your Taurus guy spends doing nothing and being lazy is like sacred time to him. It's his time to decompress and just chill, as is true with most of us.
If your Taurus guy invites you over for some Netflix and chill, he may actually just want to Netflix and chill. Of course, lazy time is an indulgent time and there is a good possibility that one thing may lead to another, and there's an even bigger possibility that this is his plan.
However, it is a big green flag if he invites you over to his place, this means he is really comfortable with you and that he accepts you as a part of his life. Netflix and chill definitely mean more… It is up to you about how far you want to take it.
How To Tell If A Taurus Man Likes You — FAQ
There is no simple answer to this because Taurus men, in general, like to take things slow, especially when it comes to a relationship. If the two of you have just met then I would keep your expectations really low and just assume that he only wants friendship.
If you have too high expectations of a Taurus man then you are going to be sorely disappointed because he moves at a much slower pace than other guys. Just be yourself and let him take the lead.
But seriously, heed my advice and view him as just a friend at first, this way you won't be sad or disheartened when he takes things a lot slower than what you would like him to.
How Can You Tell If A Taurus Man Doesn't Like You?
A Taurus man is pretty difficult to read, especially if he doesn't like you because he is a pretty friendly person and will never be nasty or malicious to anyone. But you may also take his slow-moving actions as disinterest as well. This is a tricky one.
However, if he never reaches out and is quite short and one-worded in his responses to you then the likelihood of him being into you is pretty low.
A Taurus man will always invest in what he cares about, and if he doesn't, well you know where you stand. Don't take it personally, just realize he isn't the one for you and move on.
Related: Warning Signs That A Taurus Man Has Lost Interest
What Is A Taurus Man's Love Language?
Being such a sensual sign, it is pretty obvious that a Taurus man's love language is physical touch. Ruled by Venus, he needs that affection to feel like he is loved. He also shows he cares by being tender with his woman.
If the lady he is dating is quite shut off and is unwilling to get physically intimate often with the Taurus man then he might quickly lose interest in her. He needs to be able to express himself physically!
I strongly recommend you explore more about your Taurus man's love language, in my new guide Taurus Love Language where I reveal plenty of useful insights as well as exact examples on which phrases will make him crazy for you.
Will A Taurus Man Wait For You?
Absolutely! One of the best qualities about a Taurus man is his enduring nature. He is so patient and wouldn't want to rush anyone into anything. A Taurus man will wait for you!
Normal Dating Advice Can Backfire With A Taurus Man…
Over the years, I've had a lot of my clients send me advice they got from dating coaches. They wanted to know if it would work with their Taurus man.
And I literally wanted to scream with frustration.
Why???
Because most dating advice definitely will NOT work if you use it with a Taurus.
You see, Taurus men are VERY different than men of other signs. And if you use standard dating advice with a Taurus, it can backfire. He might disappear forever and you'll never hear from him again.
I don't want that to happen to you.
Especially when it is SO easy to draw him to you and get him to connect deeply with your heart.
You just need to know the specific phrases to tell him…
So he'll NEVER want to lose you.
He'll be wrapped around your finger… And it won't take him long to put a ring on that finger either.
These phrases are the EXACT thing you need to turn everything around with him.
So… for heaven's sake… DON'T listen to normal dating coaches! They give out the same advice for ALL men… which is absolutely insane.
Because your wonderful Taurus is NOT like other men… at ALL.
So go here now to find out the specific things your Taurus man needs to hear to melt his heart.
Wishing you so much love and happiness.
Your friend and Relationship Astrologer,
Anna Kovach
---
---