Are you trying to lure a sexy Taurus man to become more than friends? Communication is an important step. If you are wondering how to attract a Taurus man through texts, here are some ways you can text him and keep him interested.
Remember, every man is unique and so is your Taurus. What you texted before another guy may not work as well with a Taurus man. So follow these 6 "rules" on how to text your Taurus and I'm sure you'll quickly set up a date once you communicate on the same level.
Who am I and why trust my advice?
Just so you know, I'm a professional Relationship Astrologer. My guide, Taurus Man Secrets, has already helped thousands of women attract that special Taurus man into their life — and I hope it can do the same for you. I want to get to know you and that's why I've prepared a little gift for you: grab your FREE copy of my 30 Dirty Little Secrets About Your Taurus Man here. It will help you better understand your Taurus and thus manifest a deeper connection with him.
Now back to texting your Taurus! Here are some basic guidelines to follow.
1. Keeping it Light
The Taurus man doesn't like to feel pressure or pursued. Read more about it in does a Taurus man like to be chased. He likes to be the one to do the pursuing. So if you're going to maintain a healthy flow with a Taurus man; you should keep it light.
What I mean by light is keeping it fun and easy flowing. Just saying something like "Hey there, hope you're doing well" or something like a friend would say. This will be enough to make him smile.
At that point he will then decide if he wants to say something more romantic to you or if he will text you back in the same light way. Either way, talking is something you want him to do.
Ask him how his day is going or wish him a happy day. Doing things like this make you look considerate and easy to talk to.
2. Don't Panic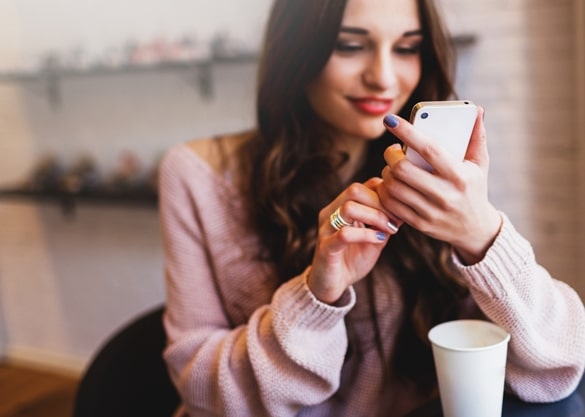 Taurus can sometimes become very busy with whatever they are doing and may not text you back right away. It doesn't mean that he's necessarily ignoring you. If all seemed well the last time you talked, there is no reason to panic.
If there is something wrong, you'll know. It's not at all unusual that he will go hours without saying anything. Have trust in him and he should text you back when he is able to.
If you panic and send him text messages indicating that you're concerned or that you're not sure why he hasn't responded yet; he will take this as you trying to rope him in or control him.
Again, it's about making the texts easy breezy for him to feel appreciated and thought about. He loves feeling that way and will want more of it.
However, once you've text him the initial texts, don't try to monopolize too much of his time. Plus being a little less eager will make him come running to chase you down more.
If you're more interested in the exact "lines" you can text him, I talk more extensively about that in my Taurus Man Secrets series where there's a specialized guide all just about texting a Taurus. And this is especially useful if you're not dating yet, but just trying to put your spell on him and make him fall for you.
3. Be Flirty
While keeping it somewhat easy going; you can still flirt. You can even send him a really cute photo of yourself. He'll enjoy that! Maybe you're doing something and you send him a picture of what you're doing, just to give him a glimpse into your life — of course, don't seem TOO forward, this is only if you notice that he's already interested in you. It's just if you're already in the "flirting phase" of your relationship.
He'll imagine what it will be like the next time he sees you. It helps build anticipation. Doing something as simple as "busy day" and sending the photo will make him feel wanted.
This will get his gears going and allow his mind to wander in a very good way. Even saying something like "hello handsome, have a great day" would be great! He'll likely respond to you in kind. You can send him a little compliment and then not text him for a few days and see if he texts you first. If he does, that's a great sign that he's thinking of you and maybe even misses you a bit.
When you're being flirty, remember to just keep it down a notch so that it's enough to make him curious and enough to make him feel he can pursue you to be his. It's a fine line.
Of course, this doesn't all have to go by texting him on the phone… it can be on Facebook, or even Instagram. This is, by the way, a great way to start a conversation via text with a Taurus guy.
If you're friends on Instagram, post a picture as "bait", so he has a "conversation piece" to use…then if he likes your picture, you can like one back (so he knows you check his profile even though he didn't post anything new), and this may prompt him to start texting you. He just needs some "bait" to make the first move and a clue that you're open to being pursued.
4. Fact Finding
I know this is going to sound weird but; if you text him some random fact of the day, he will not only find it intriguing but it will appeal to his intellectual side. He will think how thoughtful you'd share that with him.
He will also see that you're an intelligent person and want to get closer to you. Even better is to turn him on via things you know he likes. If he's into animals, dazzle him with the new latest species of frogs.
Seriously; he will fall for it and think it's amazing that you're researching these things and are sharing it with him. Whatever it is he's into, find a way to give him new insight or input. But make it casual, like you "heard about so and so…" and remembered he mentioned that. Again it's always good when you have the end goal in mind — is it him asking you out on a date? It's easier to push in that direction when you have something to talk about.
Texts like these will make him seriously interested in figuring out how much knowledge you're willing to learn and share with him. That turns him on in a very unique yet special way.
5. Avoid Conflict Texts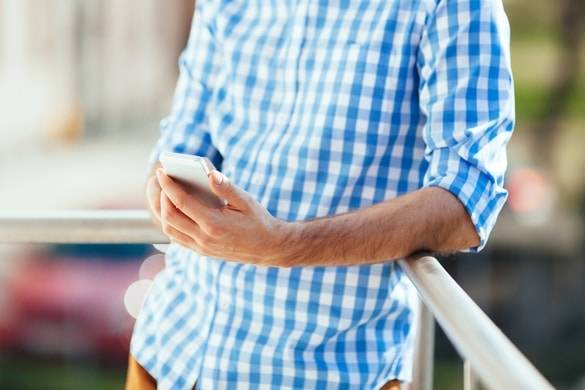 The Taurus man doesn't like drama and if you come at him asking him "where were you"; he's going to take it personally and feel you're trying to tame him. He won't respond well.
He wants to be trusted so he can show you how loyal he is. Give him some room and some space before you haul off and start giving him the third degree. Even if he deserves it; he won't respond well.
The last thing you want is for him to ice you out and start ignoring you. That will be far worse for you in the long run. So even if he ticks you off, try to avoid sending angry texts. Count to 10 before you text anything in anger or frustration, you won't seem stable and Taurus hates drama.
This will cause him to retort or become displaced thus ruining his entire day. It's hard to piss off a Taurus man but when you do, trust me on this; give him space. That's the only way he'll recover from it.
If you do end up asked on a date (or just casually "coffee" or even a movie if you mention you liked something), then this article will help you attract him through conversation so you know what to talk about. It can also help you better understand how to communicate with a Taurus via text messages.
6. Be Sweet and Caring
Try to be very sweet and feminine, but if you aren't serious yet, don't be pushy or "too caring" as it will seem oppressive to him. He wants to take his time and so he'll look for a nice balance to maintain.
What I mean by sweet is by saying "I hope you have a wonderful day handsome" or something that will appeal to him in a way that indicates you care but without any sort of attachment.
If he detects you're becoming dependent on him, he will not like it. He doesn't want a dependent partner until he's really ready for it. You could also tell him next time you see him, you'd like to get some dessert.
Dessert is literally very sweet and will probably appeal to him. Taurus loves food and extravagance so he'll appreciate it. It's also a great way to "bait" him via text to get asked out on a date, if you're still in that phase of your relationship.
The suggestion of FOOD alone will probably make his mouth water. Even better, text him back (if he asks what you're up to), that you're thinking about what to cook for dinner tonight. Maybe you can make it a date. And a Taurus LOVES a woman that knows how to make delicious food more than any other sign.
All in all, find ways that you can be creative, helpful, caring, and interesting. These types of texts will make him feel as though you're really going all out but not being too aggressive which is perfect.
He wants to be the one pursuing you and making sure he's being the man he knows he needs to be. It will make him more comfortable. If you're ready to dive deeper and start your journey to unconditional love with your Taurus man, you can purchase Taurus Man Secrets here.
Ask questions in the comment section below!
---
---