Taurus men… well what can you say? They can be pretty hard to read because they are always so self-assured and calm, they never give anything away. So, how can you tell if a Taurus man is secretly in love? What signs should you look out for?
These guys are pretty incredible and make wonderful romantic partners. They tick all the boxes, especially if you are a woman who enjoys romance, sensuality, stability, and security in a relationship.
A Taurus man is subtle, especially when he is smitten because he has a lot of fears that you don't reciprocate his feelings. This is why Taurus men will actually start to back away and ignore you when he is secretly in love with you.
The thing is, a Taurus man is deeply sensitive and hates getting hurt, so he is always going to be a little bit cautious and careful when it comes to falling in love. He is so scared of getting hurt that he takes himself out of the game completely.
Read on to find out telltale signs a Taurus man secretly likes you…
Are Taurus Men Shy When They Like Someone?
When a Taurus man falls in love with you, he will act like other men do when they are really not that interested. He will be shy and avoid eye contact and he will talk to other people while appearing to not hear a word you say.
This is just his way of trying to figure out if you are as interested in him as he is in you, and whether he can take the plunge without getting hurt. He might act a little coy and like he doesn't notice you exist, but the contrary is true, all he can think about is you!
He just doesn't want to appear desperate or make it too obvious that he has feelings for you. Love can be quite daunting for a Taurus man!
Let's take a look at some of the Taurus man secretly in love signs and what you can do to help him feel comfortable and confident around you.
3 Telltale Signs A Taurus Man Is Secretly In Love With You
When you first start dating a Taurus man, you might be a little unsure as to what to expect of him. He is always so cool, calm, and collected, which makes it totally impossible to get an accurate read on him.
It can be hard to figure out what are the signs that a Taurus man is really into you if you don't know him that well yet. Some of the things he does may leave you feeling really confused and might even come across as disinterested in you.
If you would like to look out for the surefire signs about Taurus man intentions about you, check out my recent blog post.
It is so confusing, but here is a list of things you can look out for to determine if a Taurus man is secretly in love with you:
It Feels Like He's Deliberately Ignoring You
A Taurus man may go out of his way to avoid talking to you directly and if you are in a group, then he may find a way to never be close to you or make eye contact.
If you talk, he may suddenly become engrossed in reading the menu or staring out of the window. This means he is actually crazy about you and is still trying to absorb that fact himself.
A Taurus man is a little awkward when it comes to love and might fumble whenever he is around you.
Read also: When A Taurus Man Ignores You — Here's What To Do
He Will Seem Unaffected By Your Presence
A Taurus man secretly in love will get a strange sense of purpose and confidence that he doesn't normally have. He may appear to you to have lost all interest and not even be aware that you exist.
Inside he is just feeling the strength of his feeling and desperately trying not to show it. Be patient and give him time. His love is worth waiting for. He's just a little unsure of himself and unsure of how you feel about him as well. Until he is certain he is going to play it quite cool!
When A Taurus Man Avoids Eye Contact
All you need to do to know if a Taurus man is madly in love is to look into his eyes. He can't help showing exactly how he feels, and that is why he may be avoiding eye contact and acting like he hardly knows you.
Be patient and stay open to him, he will find the courage to show his love in good time. The thing with a Taurus man is that he likes to take things slow and steady. He wants to build a strong foundation so he isn't going to act super-hot for you from the get-go. He wants to be sure!
How To Tell If A Taurus Man Is In Love With You (6 Surefire Signs)
If you have been dating a Taurus man for a while now, you may be used to him and understand him a bit more than when you first started getting to know him. But you still might wonder if a Taurus man is in love with you yet.
Of course, as things in the relationship progress so will the way he shows his love and affection for you. When a Taurus man is in love the way he shows his love will become deeper and more meaningful. You will know for sure!
A Taurus man is deeply affectionate, especially when he is in love. Here are some of the signs a Taurus man is in love with you:
1. His Lovemaking Style Will Become Softer
When a Taurus man is trying to impress and win you over, he will try to be a sex god in bed, but once he is in love, he will want to kiss you more and will become much softer and more vulnerable.
A Taurus man is incredibly sensual and one of the best lovers you could ever imagine. He will go out of his way to make you feel pleasure, but he will also be deeply intimate and stare into your eyes as he makes love to you. It will be quite a moving experience for you both.
Enjoy it, this is just the beginning of what he is when he is in love.
Learn here how a Taurus man expresses his love for you <<
2. He Will Make Expensive Gestures
A Taurus man is very much defined by material luxuries and when he really loves someone, he will make gestures that give away how valuable you are in his eyes. One of his love languages is definitely gift-giving and he will shower you with presents as often as the mood takes him.
When a Taurus man is in love with you, he wants you to feel special and know how much you mean to him. The more he gives, the more he cares about you.
These gestures are not always expensive in a money sense, he may invite you to visit his senile grandmother, which in his eyes is a step closer to marriage. He'll be very generous with his time and his energy when he thinks you are worth it.
3. He Will Show Concern For Your Safety
Taurus men are possessive and obsessed with security so one way they show love is to be very concerned with how safe and secure you are. This is expressed in being protective and even bossy about the risks you take and the choices you make.
Take it as a compliment and show your appreciation, because if you fight him off or show that you don't need him, he will find it harder to come to terms with being head over heels in love. He just wants to know that you are okay and will do anything to ensure it!
When a Taurus man says he loves you – Can you trust him? Find out here <<
4. He Will Boast About You Or Quote You When He Talks
A Taurus man secretly in love may go to a lot of trouble to look like he doesn't even care, but he won't be able to resist dropping your name or quoting things you say into his everyday conversation.
Listen for how much he loves you in how much he weaves you and your opinions into his everyday communication. You are probably more on his mind than you realize! When a Taurus man falls in love a lot of his energy is spent thinking about his woman.
5. He Will Turn Up The Sensual Heat
Love, for a Taurus man, is an expression of tantalizing tastes, sounds, and smells. Watch for subtle signs like a few more candles, fresh flowers, or a specially prepared home-cooked meal.
He may take more care with his appearance or get a new haircut, and all of these are hidden signs that he is madly and badly in love.
If he runs a big hot bath and lights candles or fills the house with exotic smells, take that as your cue to be willing and receptive to his brand of enduring, faithful love. This is a major sign a Taurus man secretly likes you.
Read next: When A Taurus Man Decides You're The One (Signs He Is Ready To Commit)
6. He Will Confide In You
Trust is a major issue for a Taurus man and he will only confide his most deeply hidden shameful secrets to someone he completely trusts and loves.
When he does this, you need to take him seriously and guard his confidence in you as you would your own life. You need to create the conditions where he will feel secure enough to bare his heart and soul, so don't react to his mixed signals – just stay interested and available to him and this will coax him out of his shell.
Why A Taurus Man Will Love You Better Than Anyone Else?
Taurus men are the natural lovers of the Zodiac but they take their time to show how much they are, and they remain hard to read and strange in their behavior until they feel completely comfortable and safe.
Trust me, it's worth the wait, and your patience will pay off because once they commit and feel OK with being in love, they are the best lovers around. There is no one who will make you feel more loved and appreciated than your Taurus man, you are seriously lucky!
Taurus Men Are Stubbornly In Love
Have you ever partnered up with someone whose love felt dependent on other things, like what you can provide for them? Are you sick of fair-weather lovers?
Well then, you're going to want to get your hands on a Taurus man! Once a Taurus man is in love, he's never falling out of it.
Taurus is a fixed earth sign. They are known for their ability to remain steady and faithful to their given cause (like a relationship!). They grow where they are planted and they aren't dreaming of better things… they like right where they're at, and if that's by your side then all the better!
Taurus men don't think about breaking up unless something is seriously wrong. Their affection for you is yours and only yours! They stand firm in their love for you no matter what.
A Taurus man will be incredibly loyal and want to be by your side forever. When a Taurus man commits to someone, it is for life! You're a lucky girl to have found such a loyal and loving partner.
The Snuggles Are Out Of This World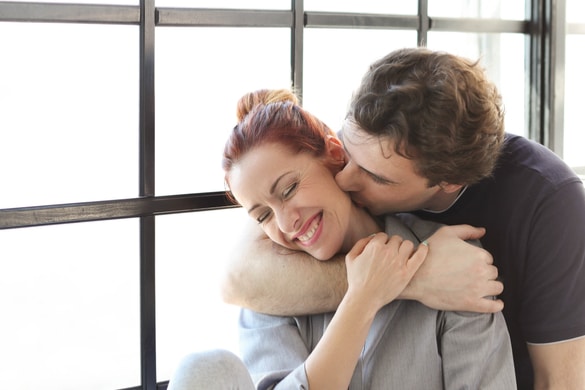 Taurus' are highly physical signs. They love all things tactile and beautiful. So, is it any surprise that they want their hands all over you all the time?
The Taurus man is not the type of guy who needs physical space and who needs to take a breather from cuddles after a while. He'd rest happily in your arms and never leave if it was up to him. If you like to have your guy within close proximity most of the time then the Taurus is your dream match!
Make sure that when you're with a Taurus the two of you find plenty of time to stay in bed and snuggle while snacking and watching TV. This is prime bonding time in the eyes of the Taurus and he'll deeply appreciate holding you in his arms from morning until night.
Actually, Taurus men have one of the most specific love languages of all zodiac signs. I covered his entire Astrology love profile in my Taurus Man Love Language guide. I suggest you get your copy if you really want to master his love language.
They'll Spoil You
Earth signs in general are associated with money and abundance, and this goes double for Taurus who is ruled by the money planet, Venus! This isn't to say that every Taurus is rich, but they're more likely to be well off than almost any other sign. He's dedicated enough to stick with one line of business until it rewards him and this helps him rake in the dough.
As a result, Taureans love to show their love by giving things that they know their lover will enjoy. As such, the partner of the Taurus will know when they are on their lovers' minds because they'll be showered in any number of gifts. Flowers are a favorite of Taurus' for gift giving because they grow from the Earth and have a natural beauty.
Always be appreciative of the gifts that he's given to you so that he knows you see his effort. He's going to always give you the objects that you desire as long as you show him that he's your one and only. If you're with a Taurus, you are officially the envy of us all!
Taurus' Love Love
As I mentioned, Taurus' are ruled by Venus. Venus not only rules money, but it's more famous for ruling love and romance! Taurus' are one sign that more than most, is heavily associated with love and partnership. They love coming home to someone who is happy to see them walk in the door.
He takes a while to settle into a relationship because everything a Taurus does is slow (well, most things). Once he decides that you're his girl then that's it! He loves being in love with you and he will go above and beyond to make you feel as loved and appreciated as you make him feel.
Taurus' are romantic and so he'll appreciate gestures of love. He doesn't need anything flashy, just genuine displays of affection with real feelings behind it. Taurus looks for substance in a relationship and so whatever you say to him, back it up with real action and true intent.
Incredible Sex!
If you've been treating your Taurus man well and making him feel appreciated, not only will he cover you in cuddles, smooches, and fine jewelry, but he will also give you some out of this world sex! Yes indeed, these guys enjoy sex more than most things because of how sensual and hands-on it is.
Taurus men are pleasure-seeking beings. They want very much to make sure that they're feeling relaxed and totally happy as much as possible, as often as possible. And if he really loves you then he is going to want to ensure that you're feeling the same ecstasy that he's feeling.
He's a great sport in bed and he will take his sweet time giving you all the pleasure in the world. He's motivated by real, tangible satisfaction. This means that he won't be theatrical and he won't be over the top… he'll just get the job done better than most men could ever dream!
No More Sleepless Nights About Your Taurus Man…
It can be SO painful to worry about how to make things work with a Taurus man who won't commit.
I know. I've been there.
I remember crying myself to sleep worried about whether my man would EVER commit to me. And there were a TON of nights when I just couldn't sleep at all. I lost hours of time from work and doing things I loved…
All because I couldn't figure out how to capture his heart… How to get him to see what a catch I am… And to finally commit to me.
It made me feel incredibly insecure…
And I'm an extremely confident woman. I'd never had a man not fall for me quickly. EVER.
But… I KNEW how good he was for me, so I didn't want to give up.
All my friends kept telling me to just move on. They couldn't see what I saw…
That he was the most INCREDIBLE man I'd ever met.
How could I just give up on that???
I couldn't!
And now, looking back, I'm SO grateful that I DIDN'T listen to my friends. He is the most wonderful man I've ever met. And now we're happily married.
But it wasn't easy. It took a LOT of work.
I had to learn how to speak a different language… his love language <<
And it worked!!
So if you are ready to sleep like a baby… Knowing your Taurus man is MADLY in love with you… And never feel anxious about him again…
>> Go here now to see how to speak your Taurus man's love language.
xoxo, Anna
---
---