Hello my lovelies, how are you, and how's the mood for February? 
I hope you are doing well and are feeling the end of all retrogrades we had entering this year. How did January treat you? Tell me all about it in the comments, but before we get to that part, let's dive into the predictions for Taurus man's February – the most romantic month of the year, so strap in, and let's dive into it!
During the first week of February, emotions are close to surface in Taurus man's heart, so make good use of these transits – take him out and about, talk about his feelings and his past, cook for him, and let him feel the tangibility of your love through small acts of kindness. 
2nd week is great for pushing for the activities you want to do, and (over)sharing your idea of romance. It's also a great time to explore each other's fetishes and have fun experimenting with aphrodisiacs. 
3rd week holds a Super New Moon in Pisces, and Venus changes signs; this is some major league energy right there for Taurus man, as he is called for facing the changes with a brave heart and an open mind. He also makes a shift from a shy, romantic emo boy, to a bad cowboy who's ready to rock your world in a naughty way.
The final week is his week, he's a made man, he just needs to implement it and accept it on a conscious level. And you – if you have a wish or a desire you want to come true concerning you and him, now is the time to act!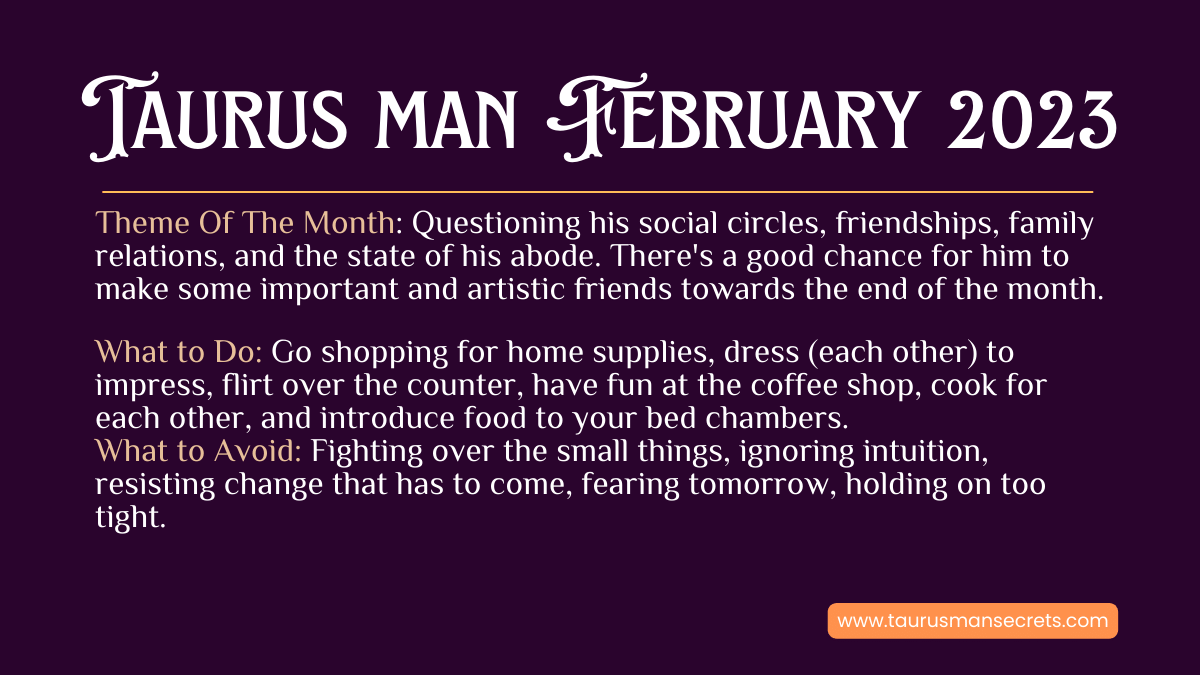 Theme of the month: during February, Taurus man will question his social circles, friendships, family relations, and the state of his home. There's a good chance for him to make some important and artistic friends towards the end of the month. 
Magic Phrase: "bae let me cook for you, come eat the food that will heal your soul" (around the 5th), and "darling let us go out and see what beauty the world has to offer us this fine evening" (around the 20th). 
Text Magic: "whenever I eat this food, I can not think of your magic… stick, and the last time we wined and dined together, let's relive the experience~"
Do: go shopping for home supplies, dress (each other) to impress, flirt over the counter, have fun at the coffee shop, cook for each other, and introduce food to your bed chambers.
Avoid: fighting over the small things, ignoring intuition, resisting change that has to come, fearing tomorrow, holding on too tight. 
Access Taurus Man 2023 Horoscope Here
Emotions pouring like rain…
During the 1st week of February, the Taurus man will feel the need to be cuddled and to talk about his emotions, but also to eat sweets and enjoy good food. So, it really is a good time to take him out for a good meal, and then take him back home for some cuddles. 
He will be in a very romantic and emotional mood during the first couple of days of February, thanks to the Watery trine between Moon and Venus. This is a very good time to dig into his heart and subconsciousness, and also his past, he'll be more open and talkative about it than ever before. 
On the 5th, there's a Leo Full Moon in his 4th house, and both his personal and career life will be under cosmic scrutiny. He might be in an irritable or sensitive mood around this date, so don't be surprised if you get a very dramatic text or a call from him. 
The very end of the week is good for romantic activities that will let him blow off some steam. If you can, plan a casual date that will have constructive and productive undertones, so that he might feel useful while actually having fun with you, and feeling appreciated.  
Playful wild horses
During the start of the 2nd week, his focus will be on the daily pleasantries, and how to feel good in his daily activities. He might receive some good news on the job, or from his colleagues. He might even be invited to some kind of a celebration or a team budling activity; if that happens to be the case, offer to prepare a bento box for him, and he'll be delighted.
As the week progresses, he'll feel the need to cuddle and huddle close to you. The middle of the 2nd week is a good time to push for the activities you want to and feel like doing. Especially if those activities invite an emotional intensity of some kind, one way or another. 
This is a great time to watch serial killer docuseries, or to show each other favorite bands from (emo/goth) teenage years, go down memory lane and reminisce about the 'good ol' days', and recreate some of the dishes you both loved when you were young adults or even kids. 
As the 2nd week draws to a close, he'll be in a more explorative and playful mood in the bedroom, so it might be a good time to visit a 'doll house' together or to watch some erotic movies surrounded by candles. Either way, this is a good transit for being free and wild with each other and enjoying it to the fullest. 
Changes
At the start of the 3rd week, he might be harsher on the words; his mind will work in straightforward and no bs lines, so try not to be offended but instead listen to the core of what he's saying and try to communicate with him in a similar manner – direct and honest. 
As the middle of the 3rd-week approaches, his public life and career will take precedence over everything else, he'll have a lot going on, to be honest, taking into account how packed his 10th house is at this point in time. 
This is a good time for him to expand his (professional) universe, and venture outside of the usual borders when it comes to his earnings and the way he perceives (his) career. It's a good time to push him outside of his comfort zone and to be eloquent about it. When I say 'eloquent', I mean logical, direct, and strict, of course. 
At the end of the 3rd week, his social life will be highlighted, and he will be called to blow off some steam with his friends. He'll also 'change his tune' from a hopeless romantic to more of a bad boy ready to take some risks and play it by heart. This is a good time to go out with his friends (or colleagues) and to partake in some "cowboy" pastime activities. 
Rollercoaster and a wild ride
The 4th and final week of February is sort of a grand opening for Taurus man and his cosmic energy; Venus (his ruler) conjuncts Jupiter in his 12th house of dreams, aspirations, and visions, and Moon touches upon both the North Node and Uranus in his 1st house. If this week is not made for changes, I don't know what is! 
This is a very potent and fertile time for him and his aspirations, he might be restless and irritable, but also inspired, enthusiastic, and bolder than he was in years. It's a great time for drastic (personal) changes, as well as changes in his appearance and love life. 
If you're second-guessing yourself and wondering if should you make a (bold) move on him, now is the perfect time to say 'yes!' and do what you want to do. 
Towards the very end of the week (and month), Moon will touch upon Mars in Gemini, in his 2nd house, and he might experience awesome revelations about his finances, money spending, and how to increase his income in a very versatile and imaginative way. 
Although Taurus man despises changes, this week is his golden week, and he should implement all the brilliant ideas he's been brewing for a while now. 
Want to get the guidance to be his dream woman in 2023? Then take a look at Taurus Man 2023 Secrets here.
Final Word 
And there you have it my dear, indeed a lovely month ahead for Taurus man. Don't forget to flame the embers of his heart, and push him toward upcoming changes, for he'll try and run from them, and that's a big mistake. 
It's a great month for romance and relationship development, as well as some action-packed dates, and intense nights. If you feel like camping or going out of town for a couple of days to blow off some (mutual) steam – go for it, never a better time than now. 
Now, if you still feel like you're filled with burning questions, then feel free to find me here and book your very own synastry reading. 
I'm rooting for you, and for Taurus man to make his changes and blow up like never before!
Until next month, my lovelies,
Wishing you love and luck with your Taurus Man, 
Your sister and relationship astrologer, 
Anna Kovach
---
---