Hello, darlings, how was the big night? Spectacular and hedonistic as much as possible, I hope. Now I've come to give you a taste of the Taurus man's January, so settle down, and let's jump right into it! 
The theme of the first week is food and health. The Taurus man is asked to take better care of his diet and his health, while the Moon approaches Cancer and its full state. The best way to avoid unnecessary conflict is to stay calm and grounded in things you can touch, smell and feel. 
The second week offers a romantic retreat in the form of a spa, or some nice cosmetics. Be agile with your time during this week, because your Taurus guy might want to take you out on some hedonistic dates. It's time to treat yourself and enjoy. 
The third week offers a great time for art and museum dates, and a perfect moment to delve deeper into each other's personalities and dreams for the future. It's a great opportunity to explore love in art and find new ways to bring art into your love life. 
The fourth week of the month offers an opportunity to be seen with him in public, wearing your best dress and smelling nice. This is a great phase for him to give a fresh start to his career and to make some very valuable social contacts.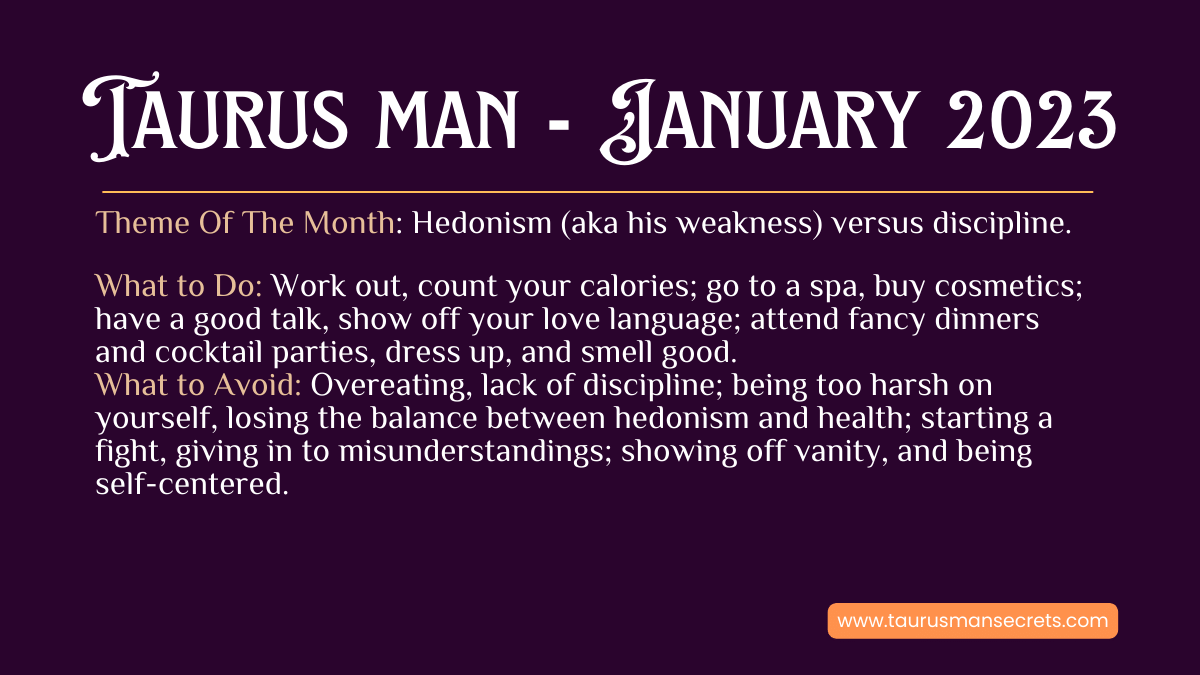 Theme Of The Month: Hedonism (aka his weakness) versus discipline. 
Magic Phrase: Let's work hard and then play harder; together.  
Text Magic: Babe let's browse ingredients so that we can make this awesome recipe I found on Instagram. 
What to Do: Work out, count your calories; go to a spa, buy cosmetics; have a good talk, show off your love language; attend fancy dinners and cocktail parties, dress up, and smell good. 
What to Avoid: Overeating, lack of discipline; being too harsh on yourself, losing the balance between hedonism and health; starting a fight, giving in to misunderstandings; showing off vanity, and being self-centered. 
Access Taurus Man's Horoscope here –> Taurus Man Secrets 2023
You Are What You Eat
During the first week of January, the Taurus man's focus will go on philosophical and foreign matters. At this point in time, Uranus, Mars, and Mercury are all Retrograde, and the Moon is triggering these planets as it moves across the stellar board. The Taurus man might experience some ups and downs when it comes to his self-image and diet during the first few days of January. 
This might put him in a foul mood, but what's good for the goose, is good for the gander, so he should really heed advice about his dietary intake and how to stay in optimal shape for his health. 
On the 6th, there's a Full Moon in Cancer, and this activates his third house of communication and commute. He might experience some trouble with his siblings or his neighbors. I advise cool heads and keeping his tongue behind his teeth, at least for a couple of days right before and slightly after this lunation. 
This first week offers a good time for communication, and for exchanging data on tasty (yet nutritious) recipes, cooking, and going grocery shopping together. Sending each other pics of gym progress, and motivating each other with delicious-looking meals can be a real highlight of this Full Moon.  
The Stars Are Saying: Relax And Breathe
The second week brings a promise of romance and fun. During this week, the Taurus man's inner landscape will feel much calmer and more rooted, and thus, he's able to enjoy a romantic dinner, whether outside or at home, and relax with some wine and a good movie. 
This week is also great for cosmetic shopping, and for a spa resort. Going out of your way to provide pleasure for the senses can really bring the two of you closer and deepen your bond, at this time. 
He's done a proper revision of his spending and savings, so he's able to breathe more freely during this week, although, does the Taurus man ever stop worrying about money? I think not, at least, he won't worry THAT MUCH during this week. 
Remind him that spending money on good things is not a bad thing, but also try and be his moral break and prevent him from overspending just to compensate for feeling the lack of food (working on oneself and one's health is a constant struggle for the Taurus man, be aware of that…)
Intimacy Deepens
During the third week, the Taurus man's focus will be on intimacy, so hedonism in the bedroom and philosophical matters. It's a great time for him to start learning a new language and if he has plans to move abroad – he should start doing something about them right now. 
This is a great opportunity to go to museums and have culture-themed dates. Watching documentaries about the lives of the great artist, going to fashion shows, or simply perusing masterpieces in art museums, are all valid and great ideas in order to get closer. 
He might show off his more possessive and obsessive side during this week; Taurus is usually subtler than Scorpio, even though they can be more possessive than them, believe it or not. Watch out for "threatening" texts, or small details that show off he's worried about all the extra attention you're receiving from other people. 
This week offers a good chance to talk about personal space and boundaries, and if you two have too different character modalities (for example he's an introvert, and you're an extrovert), maybe it's a good moment to let him know that different doesn't mean bad, or unloving. 
Smooth Criminal
The fourth week starts off with a Super New Moon in Aquarius on the 21st, and it illuminates his field of career, public image, and public relations. This is an excellent week for him to progress his career, to start something unique and his very own. 
If he had previous plans of starting a business or opening up his own store, now is a perfect moment for that. It's also a great time for him to make valuable social connections, especially if his career has something to do with art or artistic expression. 
Meeting famous people, and attending gala nights and fancy dinners is something he should make sure he's doing during this week, and he should employ his smoothness in order to operate the social climate of the present to his advantage. 
It's a great time to dress up and be seen on his arm in public, it's also a good time to try out a new perfume and a new cocktail dress you've been storing in the hidden section of your closet. It's also a very good moment to invite him for lingerie shopping, wink wink!
Final Thoughts
There you have it, darlings, the Taurus man will have a pretty exciting and busy month at the start of 2023. And you can have a pretty large role in his life if you choose to. It's a good month to work on mutual goals, unite, and inspire each other to be the best versions of yourselves. 
His mood will be mostly balanced, and he'll exhibit some fluctuations around the lunations, of course, but his overall mood will be pleasant and open to cooperation, especially when it comes to hedonistic activities. 
Three rare transits in 2023 will shake him up heavily but also offer you an incredibly powerful opportunity to make your bond with him stronger than ever…
These planetary transits will play with his subconscious, and he won't even be able to grasp why he's suddenly feeling different.
That's why you need to understand what's happening inside of him and know how to position yourself through the different phases your Taurus man will go through in 2023.
When you align with his subconscious needs, he'll have no other option but see you as the only woman that ever got him.
Want to be the only woman he ever needed? In his most challenging, but also in his most fun and beneficial times?
Then make sure you go ahead and grab the opportunity to prepare for 2023 on time. Check what I've prepared for you in the link below.
–> Make Your Bond With Taurus Man Stronger Than Ever in 2023
Stay creative, free of mind, and free of spirit. Until next time, my darlings.
Love and light,
Anna Kovach
---
---