If you've got your eye on a hunky Taurus man, you are wondering now if he could possibly be interested in you. How can you really tell for sure if he's into you though? He can be a bit perplexing at times but here are some signs that may help you to figure it out.
Bumping into him
It would seem that when a Taurus man is interested in someone, he will observe where this person likes to go and so he'll conveniently try to frequent that place in order to bump into them again.
If the Taurus you like starts showing up to places that you go to on a frequent basis, it's likely no coincidence. He will want to basically make himself seen to you so that you perhaps pay attention to him.
He will do what he has to in order to talk to you again or see you again. They like it to seem like its fate but really it's just the Taurus method of trying to lure in someone they like.
Offers you his Fascinating advice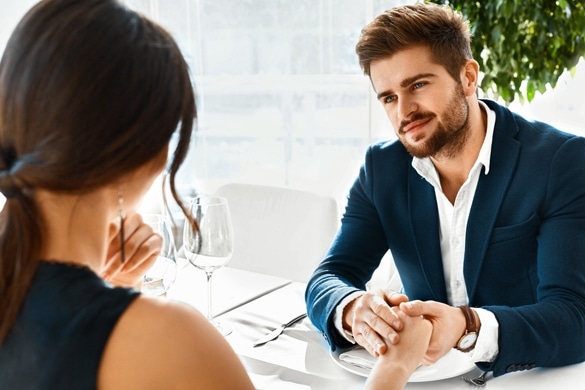 This is one of the signs that loves to give advice on matters or suggestions in which you can make your projects easier. They are full of ideas and practicality. If you want to gain his attention, ask him to help you with something.
This is the guy you can call up for assistance and he'll drop what he's doing to come to your aid. He loves doing this sort of thing. If he does, you know he likes you.
Taurus men can be brilliant and have insight that no one else can come up with. It's really enjoyable to listen to them talk. If he has lots of tips for you, it's because he likes you and wants to see you succeed.
He will also use these opportunities to be near you. You'll find that he maybe brushes your hand with his or puts his hand on your shoulder. Whatever he can to do make contact, he will try.
Beautifully Shy
This guy may seem rough and tumble at times but when he truly likes someone, the Taurus man becomes a bit on the shy side. He may blush when he's talking to you or he may laugh nervously.
He seems to have problems doing whatever it is he's trying to do because he loses focus when you're near him. He may laugh a bit too much at something that wasn't that funny just because he's nervous.
This is actually quite a spectacle to behold. Watching him squirm can be quite a turn on for you and is a HUGE way of telling you he's into you. This is without a doubt; one of the biggest signs he likes you.
He gives you "The Look"
Taurus men are not good at masking their desires. If a Taurus man is into you, he will look at you like you are the only person in the room. He'll even act as though you're the only woman in the world.
He will look at you as though he can see your very soul. He will smile for you in a way that he doesn't smile for anyone else. It's his signature of "I'm into you". This is definitely one of his best features.
If you watch him enough, you'll discover how his face and demeanor changes when he's around other people. You'll be able to tell which smile is for you and which is for others.
Trust me when I tell you; the smile he gives you will be delicious and irresistible. You'll want to take him to your bed within a short amount of time. Taurus men are very difficult to say no to.
Perfectly Talkative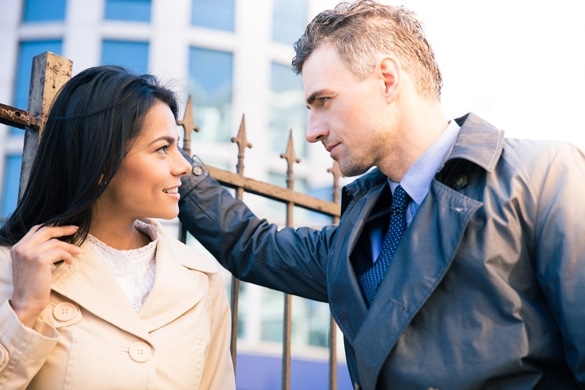 When the Taurus man is into someone, he definitely wants to talk to them as much as possible. This guy is one who will text you throughout the day or at least reply to yours if he's not too busy.
In fact, he will make time to reach out to you. He will do whatever he has to in order to keep communication alive with the woman he's craving. You'll know it because you'll have his full attention.
He is easy to talk to and typically will talk just for the sake of talking. It makes him feel he's getting closer to you the more you talk. So don't be surprised if he calls you every single day.
He may even call you more than once a day. Texts and emails will likely increase as well. You're on his mind and he wants you to know it.
Lots of quality alone time
It's a known fact that most Taurus men are a bit possessive with what they feel is theirs and this includes their mates. As such; if he is really into you, he will likely want to find ways to be alone with you.
He's a social guy but spending time alone with you instead of sharing him seems to turn him on more. Though he will at times; he will want to show you off as though you're his prize.
He's very proud of what he's found and what is his. He probably will suggest quiet dates where you can just be the two of you instead of out with groups. He doesn't like to share much in the beginning phase of the relationship.
He'd rather spend hours with you kissing and talking about what you want your future to be. Though he isn't the most romantic, I think you may find things like this endearing.
Be sure though that he's not possessive in the way that will control or dominate your life. Remind him that if he needs personal freedom at times; you do too. This will help relieve jealousy.
Communication will keep things alive with the Taurus. Just whatever you do; be honest about your intentions. Click here for more details on him!
At Last! Claim Your FREE Copy of My '30 Dirty Little Secrets About Your Taurus Man' (valued at $27, yours Free)
---
---