Are you seeing or dating a Taurus guy that you're developing strong feelings for but aren't sure if he's feeling the same? Is he acting kind of strange or has he even pulled back from you? Perhaps he's just using you as a rebound or as a "friend with benefits."
Taurus men are some of the most coveted signs in the Zodiac. These guys are loyal, dependable, and totally romantic. They know how to make a girl fall for them – and hard! But how can you tell if a Taurus man is using you? Are Taurus men players? These are just some of the questions I receive on a daily basis.
Sometimes a Taurus man will simply test a woman to see where her loyalties lie. The thing with a Taurus man is that he wants to commit and settle down, but he knows this takes a massive investment of his time and energy, and this is why he tests you to see how loyal you actually are.
He might be really worried about your level of commitment and is scared to give his heart to you completely if he can feel that you are a bit unsure about him. Guys feel this kind of energy as well. So, if you're feeling insecure, it might be rubbing off on him too.
There could be so many doubts swirling around in his head, and they aren't all necessarily that he's playing you. In fact, out of all the signs, a Taurus man is the least likely to be disloyal or play games. But if you're still feeling unsure, here are some signs you can look for to help you determine what exactly he's up to.
5 Signs A Taurus Man Is Playing You
1. Spending Intimate Time But Not Quality Time
This is one of the worst offenses that Taurus man commits. He has a way of luring a woman into bed then treating her as though she's only a friend. He'll tell her things she wants to hear in bed and be generous.
He will then turn around and not call her for days or weeks on end. He won't take her out; he won't have her over to his place; he won't do anything that could be construed as dating.
This confuses the woman as she thinks that because of the great pillow talk and sexual connection, surely he really likes her and there is a future between them. There isn't!
The Taurus man makes it very clear when he's into someone and if he isn't doing that with you, he's probably just using you as a friend with benefits without having told you that's what he's doing.
I'm sorry to say it, but I've had numerous clients that go through this exact scenario and are hopeful he'll change. He won't. He doesn't establish this type of relationship and then grows it into more. It's just sex for him; a good time.
A Taurus man needs a lot of sex in his life because he is such a physical and sensual sign. Perhaps you made it seem like you weren't interested in something serious so he is just taking your lead. Sometimes women play themselves by pretending that they just want something casual and a Taurus man isn't going to say no if there is sex on the table…
2. He Doesn't Talk About Personal Topics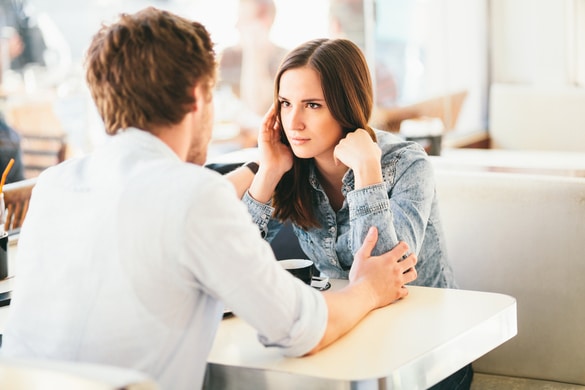 When a Taurus man is spending time with you but doesn't seem to want to talk about his personal life or ask you questions about yours, then he's actually not interested in getting to know you on a deeper level.
He's trying to get into your bed and have someone he can call here and there to "hang out" with. That doesn't require getting to know each other or talking a whole heck of a lot. It simply requires willingness and sex.
Taurus men can be rather ruthless. They should be honest about their intent at the get-go but sometimes aren't. Then again, sometimes they do tell a woman they aren't looking for a relationship.
However, the woman thinks that because he's had sex with her and some good conversation, maybe he's going to change his mind. He's not going to, ladies. Don't hop in bed with him if he tells you this. He means it!
A Taurus man is extremely set in his ways. When he has decided something, then he has decided it, full stop. He is very stubborn with his mind and it is really hard for him to change once he has made it.
When a Taurus man doesn't see the potential in taking things further with you, he is not going to.
3. He May Call You Pet Names
Calling you by your name is very personal and it creates a bond. It's not always the case but is often this way with the Taurus man. Not calling you by your name makes it less personal.
Also, (if he happens to be playing the field) he's going to call you by a pet name because he may not actually remember your name. That only holds true if he's seeing or sleeping with other women.
It's hard to say this really but he's calculating when he's not ready to settle down. He doesn't seem like the sleep-around guy but he CAN and will if he's hurt enough and realizes he's not into having an actual relationship.
When he's ready though, he'll stop doing all this nonsense and start giving his heart to one woman. Some Taurus men become prudes and won't have sex with anyone until he is actually in a relationship. There are players though, and if he cannot even call you by your name or stare into your eyes, he's using you.
Sometimes spending time with a lot of different women makes it easier for him to not get attached to one person. The thing with a Taurus man is that when he falls in love, he falls in love deeply and probably wants to spend the rest of his life with that person.
Breakups are very hard for Taurus men and they really struggle to overcome that pain, so they learn through their experiences that if they spread their attention far and wide then they are less likely to get hurt because they aren't attached to one specific person.
It may suck for you, but this is actually just a form of self-preservation for your Taurus guy. He is protecting himself because he really doesn't want to get hurt.
4. Long Periods Of Time With No Contact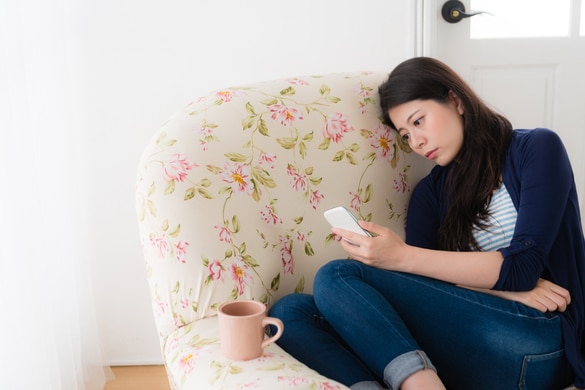 Taurus men are not all that forthcoming with how they feel. They will answer truthfully when asked. When you get involved with a Taurus man, ask him what he sees or what he wants.
If you do not do this, you will be dragged along and wondering if he will ever settle down with you or if he's going to keep doing this weird awkward silence thing for long periods of time.
He may reach out to you and then go weeks without talking or texting. Yes, Taurus men are horrible at communication via text or calls but he will still keep in contact unless he's playing with you.
When a Taurus man is in love or wants to be with someone, he will go to the ends of the earth to show her. When he's not doing this, he's not invested yet and you should be wary.
A Taurus man loves to love and will go out of his way to show the person who has his affections how much they mean to him. If he's radio silent, then he's probably got his attention elsewhere.
5. Only Has Sex When He Wants To
Taurus men will sometimes use sex as a tool. He'll hook a woman for a night or two with a passionate love affair. Then he'll use it as a bargaining chip. If he wants to be close to a woman, then he'll have sex with her like this often.
If he isn't into her or doesn't see a future with her, then he'll have sex with her, get her hooked, then he'll cut out and won't reach out to her for a long time. Once she feels she can start to move on, he comes back and wants to dive right back into bed.
He doesn't care anything about her other than having sex with her and screwing with her head letting her believe there is some type of chance with her. There are rare cases that he's unsure about what could be and that is why he's so back and forth.
However, when a Taurus man pops up after months of not talking and wants to have sex right away or asks you to send him dirty pics, then he's not in it for a relationship. Stop him right there and move on with your life!
You deserve a lot better than this treatment. He knows your worth, he is just hoping that you don't…
Common Questions About Taurus Men And Their Games
It can be so frustrating when you are falling for a Taurus man, but it feels like he is constantly playing games and isn't ready for a commitment. There is nothing that hurts quite as much as having feelings for someone and they're just messing around with you.
There are a few questions I often get asked about Taurus men and their behavior. Let's explore these questions and get down to the truth of everything…
Are Taurus Men Players?
Taurus men can be players, but not that intentionally. When it comes down to it, a Taurus man much prefers being in a committed, loving relationship, then messing around with a bunch of different people.
When he likes someone, he will put his heart and soul into that relationship, but the problem is, he is looking for that one special, amazing partner who will make him settle down forever. And until then, he is going to play the field to ensure that he settles on the perfect person.
Will A Taurus Man Come Back After No Contact?
When it comes to a Taurus man, not all hope is lost. These guys tend to love forever and hold a special place in their hearts for each and every one of their exes. In my experience, a Taurus man does tend to leave the door open slightly…
If you can manage to remind him of all the good times the two of you had together and show him that you are a worthy investment, then a Taurus man may very well reconsider getting back in contact with you.
However, it is really important that you give him the space he needs to do some reflection. Make him miss you and realize that his life was a lot better with you in it. You need to add something to his experience.
So, retreat your energy, work on yourself and then come back better than ever. A Taurus man finds self-improvement very sexy. So, keep investing in yourself, and your Taurus man may certainly invest right back.
Are Taurus Men Womanizers?
Unfortunately, Taurus men have a bit of a reputation for being womanizers. This is because they like to play the field and figure out who they want to be with. If you think about it, this isn't a bad approach, because how can you be sure you want to spend the rest of your life with someone when there are so many different types of people out there?
A Taurus man is actually just looking for his perfect match, his soulmate, the person he wants to spend the rest of his life with. This guy is incredibly romantic and loves commitment, but he always wants to be really sure that he is making the right decision.
You should take a page out of his book and probably date around as well, to figure out what you like in a man. Being exposed to different types of people is never a bad thing, and you may even make your Taurus man a little jealous, which is a good thing.
He will see that you are in demand and that many different people want to spend time with you. This makes you more appealing and will have him reconsider his feelings.
When A Taurus Man Doesn't Want A Relationship
When a Taurus man doesn't want a relationship with you, it will be pretty obvious. He won't go out of his way to make you feel special and he will be kind of icy towards you, in fact, he may flat-out ignore you. 
He won't ask to spend time with you and he will keep saying he has other plans when you try to see him. He kind of hates drama and he is going to try to avoid a confrontation with you about his feelings. 
And if you do manage to speak to him about his feelings, then he is likely to be pretty evasive and noncommittal, which is saying a lot for a sign that thrives off commitment. He just doesn't think you are the one. But I know how painful that can be to hear and accept. 
You probably just wish that he would be straightforward and honest with you. But instead, it really feels like he keeps messing you around. If you aren't 100% sure if your Taurus guy is messing around, then it might be worth your while to do this quiz to see if this Taurus man is playing you or not.
At least you will know and it should help you to move on and meet the person you are meant to be with!
To Conclude…
There are plenty of red flags here for you to consider when you're seeing or dating a Taurus man. He will for sure show you when he's not into it just like he will be sure to show you when he is.
Taurus men can be complicated creatures, one minute they are up and the next they are down.
This can be quite confusing and leave your head spinning around.
All you truly want is to be in your happy place with your Taurus man.
But you never know which mood you are going to find him in.
The Taurus man can be really amazing.
If you are a strong woman who can stand up for herself and still be patient with him, then you will have a rewarding relationship with him.
A Taurus partner is very caring with his partner and will do what he has to in order to make her happy.
He is also a go-getter and will go out of his way to accomplish all of his goals and to make all of his dreams come true.
As his partner, you will be his queen, his baby mama, and the woman he turns to when he needs to talk or even to cry.
You'll be his rock and reason for fighting.
But how do you reach this point?
How do you make him see you as his queen?
Is there anything specific you can do to always put you number one?
Fortunately, I always have a couple of tricks up my sleeve…
> > Click here for more information
Be a fearless follower who lets her Taurus partner lead the way, and you'll have a worshiper for life.
But also be his guiding light and help him move through the world with grace and love.
Don't be afraid to take the plunge and build this beautiful life together.
The two of you can do anything because you are together.
Enjoy your time with your Taurus partner! This is a relationship meant for the record books!
But it is up to you to make it happen…
If you truly want to make a breakthrough and make this relationship successful then you are going to have to work for it…
> > Click here to get all the information you need to make your relationship as strong as it is meant to be.
Wishing you all the luck of the Universe.
Your friend and Relationship Astrologer,
Anna Kovach
---
---