Taurus men for the most part have pretty stable emotions; they aren't the type of guys who go from one extreme to the next. It just isn't their style. It is very rare to see a Taurus man get moody, that is the nice thing about him, you can kind of predict how he is going to feel from one moment to the next.
However, when a Taurus man does get angry and upset, it can be quite something to behold. It takes a lot to anger a Taurus man. He is very much like his Zodiacal animal, the bull, slow and steady until he sees red, and then it is quite a disaster for everyone around him.
Sometimes it's hard to tell if your Taurus is in a bad mood, is hurt, or is potentially totally done with you. They are good at turning their back at any time for various reasons. If you feel like you have angered your Taurus man in some way, then it must've been a long time coming. But how can you know for sure? And is he willing to forgive you and move on?
Here are a few signs that mean that your Taurus man is done with you:
He Uses The Silent Treatment
The Taurus man is the strong silent type. His moods can vary based on his happiness level. Sometimes he's quiet because he's thinking about stuff and it isn't always directed at you personally, in fact, it rarely is.
However; it's fairly obvious when he's giving you the silent treatment. He will go out of his way to not talk to you or answer your questions. He can walk in and not say a word when you're expecting a "hello babe". You'll most definitely feel a wall between the two of you.
When a Taurus man resorts to the silent treatment, it means he's had enough. His coping mechanism isn't as well put together as his working skills. He's great at doing his job but when it comes to relationships, he doesn't know what to do and what's right.
While he can treat you like a queen; when he's mad or hurt, he cannot deal with those emotions very easily. This causes him to somewhat shut down. It will also depend on how bad it actually is.
He can harbor these feelings for a very long time. He will tally up every time you've hurt him or done something wrong. You probably won't even know that he's upset or keeping a mental list.
At some point, he's had enough and calls it quits. The first step in this process is for him to not talk to you anymore. If he does, it's limited and not in a happy tone. He will put you sort of in the "friend zone" until he cools down.
He Doesn't Want Intimacy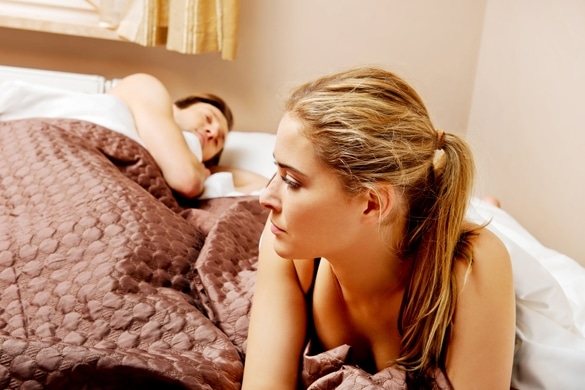 Taurus men are very physical guys. If he withdraws from sex or intimate touching; he's either really pissed off or he's done with you and has had enough He has no desire for you or even if he does; he won't let it happen. He just can't be physically intimate with someone when he's mad, he's too sensitive for that.
He is reserved when he's mad or if he's done. There are occasions where he may not be decided yet if he's ready to cut you loose, and so he'll slip up and have partial intimacy with you but will insist on no intercourse. You'll find your Taurus man icing you out every time you try to initiate sex.
As weird as it sounds, he may be willing to have oral sex or just fooling around but kissing is a no as well as intercourse. Both of those require intimacy that he doesn't want to have with you.
If he gets over it, sex will return to normal. If he starts to decide he is done, this will totally go away completely. He will turn over in bed and want to go right to sleep without even so much as a kiss goodnight. If this happens; he's definitely done.
He Comes Up With Excuses
You can tell a Taurus man is finished with you when he starts using every excuse in the book in order to avoid you. The two of you might even live together, but it may feel like you are living with a stranger.
You may notice he starts coming up with reasons he needs to leave the house. If you live together, he'll do what he has to in order to not be around you. He'll also come up with reasons he can't help you with something.
If you are not living together, he'll come up with excuses as to why he cannot get together with you. The ironic thing about all of this is that if you confront him and ask him to be truthful, he will.
By not asking him what he truly feels he'll keep going forward in his life and not tell you a darned thing. He's one of those "with time it will work itself out" meaning that you'll figure it out and move on.
Just as he may depend on you initiating the relationship in the first place; he may wait for you to initiate the break up as well. He knows if he ignores you enough or gives you clues, you'll surely break it off. He would much rather have you be the bad guy in the situation and let you do the dirty work.
What he doesn't realize is that sometimes this isn't a viable option, especially if you know what he is up to. Once he realizes this it may be at that point he'll just come out and tell you that he's done and ask you to never contact him again.
He Resorts To Abrasive Behavior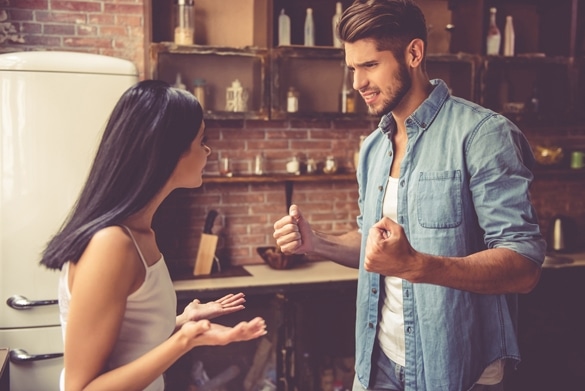 Taurus men can cut you right to the bone! They are stuck in their own ways but want you to change to form a better partner for them. No matter how much you try to accommodate him with this change he isn't satisfied.
He will criticize things you do and if he's decided he's done with you and it only gets worse. You'll find yourself getting into arguments if he talks. Otherwise, he may just stop talking to you altogether.
It's a bit trickier when you live together but he will be a bit snippy or will give you the silent treatment. If he doesn't live with you, he can just keep going about his life and pretend you don't exist.
Either way, these things are hurtful. The problem is if he cared for you at all, he feels really guilty about breaking it off. So, to avoid the conflict or confrontation he'll just wait for you to get tired of it and end it.
He may also say really mean things to you. He probably doesn't mean it but he thinks that if he's mean enough to you that you'll move on. It can seem rather childish but Taurus men do not handle ending things gracefully
Even if he sits down and tries to explain to you why it's over, he'll inevitably in some way make you feel bad about it as if there was something you could do. It may not even be the truth but again he's trying to get his freedom.
If he does actually love you but knows you aren't the right partner for him, he'll go out of his way to do his best not to hurt you but eventually when you aren't getting the message, he'll flat-out tell you.
If he tells you flat out, it will hurt like nothing you've ever felt before and you won't understand how he can still love you and not want to be with you. Only he knows what he truly wants and he doesn't open up easily.
Read next: l
My Final Thoughts
When you know all this information it can be pretty easy to see when a Taurus man is done with you and if he is planning to break up with you. They are a lot more predictable than they might think. And definitely act according to a certain formula.
Again, Taurus men are not one to be forced to do anything, they play by their own rules and more likely will expect you to change for them.
So, if you find that things are amiss with your Taurus man, you'll need to give him some of your best efforts of patience. Don't try to force this situation to get better because that is the last thing he needs from you. Let him go and make him see what life might look like without you!
Unless he tells you that he is absolutely done with you; there is always still a chance. It may take a while but it's there. If he did say he's done; he is likely telling you exactly how it is.
Watch for the signs and try your best to always provide peace and happiness with your Taurus man. Maybe this whole thing can be avoided. When he loves, he loves very deeply and takes his commitment seriously. Not all Taurus men are identical and there are ways to soften his heart again.
There is nothing more wonderful than being with a Taurus man…
He is so sweet, kind, caring, supportive, and gentle…
A true gentleman and the type of man you only thought you could make up in your dreams!
A Taurus man really knows how to love you and take care of you as no other man can.
However, things with your Taurus man have been feeling a little off recently…
You can't put your finger on it, but it seems like he is slowly losing interest in you and the relationship…
This is incredibly heartbreaking, as you love your Taurus man very much.
He is everything you have ever wanted in a man.
The thing is, you thought he was happy with you as well!
But you can feel your Taurus man backing away slowly…
All you want is to know that your Taurus man misses you and still cares about you…
There are times when he just ignores you and doesn't get back to your texts…
It hurts you so much when your Taurus man doesn't respond to what you have to say…
You never thought your relationship was going to end up like this!
And it feels like there is nothing you can do to make him come back to you.
What would you say if you knew that you could turn things around quite easily?
Would it make you happy to know that you can get your relationship back to where it once was?
< — Click here for more information
There is a lot you can still do to fix and rebuild your relationship.
This is not the end of the road…
This is actually just the beginning!
Don't give up hope because there is so much love between the two of you and all relationships have their ups and their downs.
It is just about you taking control of the situation and realizing that there is still hope.
There is so much to learn about Taurus men and how they operate in the world.
< — Click here to find out more information about how to rebuild your relationship
You deserve to be in a relationship where you get treated like a queen!
And knowing all these tricks will make your Taurus man come crawling back to you.
This is your chance to turn it all around!
You can be empowered and take this relationship into your own hands.
I wish you so much love and happiness.
Your friend and Relationship Astrologer,
Anna Kovach
---
---