Are you a Cancer woman possibly on the verge of a break up with your Taurus man? Maybe you've already broken up and wonder what happens now? Whatever the case may be, hopefully this information will help you.
Excellent Union but…
It's hard to believe that anything would break these two up but there is always a possibility looming somewhere right? There are things like moon signs and ascendant signs that could play a role.
Taurus man and Cancer woman is one of the most perfect matches. However; there are times where one or both partners just aren't feeling the magic anymore in some way.
They both crave stability and loyalty which is something they can provide to one another. However if either of them become unhappy, sometimes they can also become less interested.
This could lead one or both of them to cheat on one another. You see; both of these signs will completely commit themselves to someone but if they feel as though it's not working well anymore, they pull back.
They are both temperamental and could cause major friction. They both have a tendency to pull back and give the silent treatment. While they have much in common, this piece isn't a virtue.
If you aren't talking then you aren't working things out. If something is seriously wrong and one or both of you are pulling back; this could be a recipe for disaster. It's time to re-evaluate everything.
Emotional Ties and Woes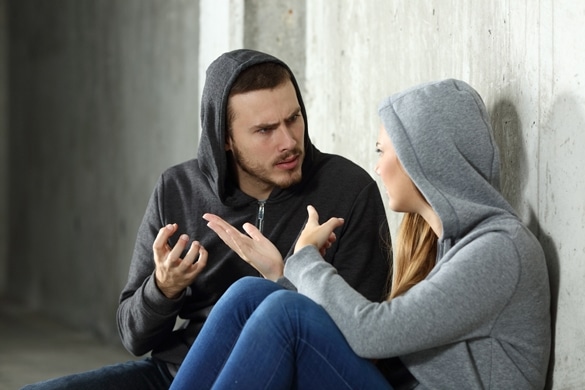 Both Taurus and Cancer can be moody at times. The Cancer woman will have more emotional outbursts typically than the Taurus man. If the Cancer woman becomes overly sensitive, it could rub Taurus man the wrong way.
Normally the Taurus man can handle the Cancer woman's emotional waves. However; he too has limits and if they get crossed; it could become too much for him to handle.
It takes quite a bit to piss off a Taurus man but once you get him there; there is no turning back. Cancer woman will have to always watch her own temper as to not push the wrong buttons.
Too much of that can cause the Taurus man to snap and if he snaps; you're done. That means it could be his breaking point and make him want to break it off.
Cancer women can also have a natural tendency to have addictions in some form. If she adapts something that Taurus thinks is really bad for her; he may nag her. After awhile of being nagged, the Cancer woman will pinch him with her claws.
Most couples of these signs will not get to this point but these are some examples of why it may not go well.
More Possibilities Of Why It's Not Working
It's really hard to find differences that would part these two. Taurus men and Cancer women are typically an excellent fit. Yet there is always the stray Taurus man with hang ups or the Cancer woman with walls built up.
Taurus and Cancer both have a tendency to let things escalate over time instead of discussing it and getting it out. If this happens, this could lead to an eventual break up that comes with an explosion.
If you're a Cancer woman, you should try to find a way to open up to your Taurus man more about the important issues in your life. This will teach him to also do the same.
This could help you both avoid a build up and possibly a break up. If you cannot get him to open up to you; this presents a problem that could be long term or could cause a parting of ways.
Both signs need to be at capacity at who they are and feel comfortable. Most of the time this works well between these two but there are those weird times where it doesn't.
When it doesn't; compromise and talking it through has to happen. If this still isn't possible then it may be time to call it quits. Once you hit rock bottom; it's time to let go.
Time To Move On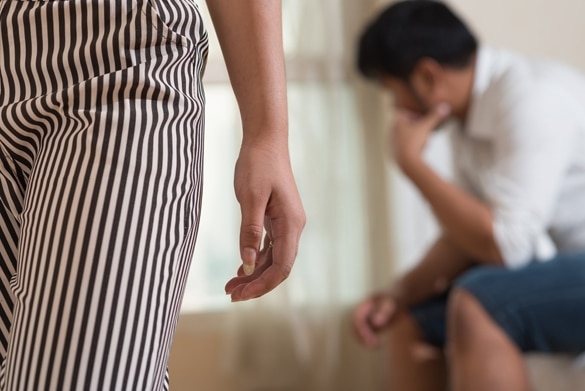 When a Cancer woman knows that her Taurus man just isn't going to change to help their relationship; she's likely to decide to move on. Again, not a common thing to happen but it IS possible.
The Cancer woman wants someone who really understands her feelings and can cope with her mood swings. Taurus men can typically do this but if he has his own baggage or has built up resentment; he won't bend.
Taurus men are very stubborn and if he is the one that needs to be more flexible; good luck. It's not impossible but it would take lots of hard work to make him see why he needs to.
If you've both reached the point where you've hit your limit with one another, it may be time to go ahead and move on. It will not be an easy departure by any means.
You two were likely so tightly knit that parting ways will be like peeling your skin off. However; if settling things is no longer an option then peel away. You need to do what you need to do.
The Cancer woman will no doubt feel heartbroken if she has to break it off with her Taurus man but she needs to do what is best for her. If it's the Taurus man that breaks it off, it will be painful for both as well.
Taurus man will feel as though he failed his Cancer lady and this will weigh heavy on him for a long time going forward.
No matter which way you slice it; this union was meant to be a keeper. If it isn't; it will still be a hard departure for both signs equally. It may be worth a second look though before you end it.
Whatever you do Cancer woman; do not initiate the break up unless you are 100% sure otherwise, he will go through with it and there may be no looking back.
If you're ready to understand more about how compatible are Taurus man and Cancer woman, check out my brand new Taurus Man and Cancer Woman Love Compatibility Guide, and if you want to catch him and keep him click here to learn more about Taurus Man Secrets.
---
---