Are you an Aquarius woman seeking companionship with a Taurus man? Has a Taurus man captured your attention? Perhaps this article can help you reveal what interest he may find in the Aquarius woman.
Locking Eyes…
These two will spot each other across a room at a party, restaurant, bar, or wherever it is that they are. He will be shy and observe her for awhile. He will wait for her to approach him.
Taurus isn't known for being outgoing or the type to bust the first move. As such; the Aquarius woman will notice how cute he is when he's shy and will strike up a conversation with him.
Right away these two can recognize the brainy intellect they enjoy about each other. They are likely to have some amazing conversations. The Aquarius woman will notice the Taurus charm he's able to pour on and this will intrigue her.
Taurus men are typically fairly attractive so it's a no brainer why she would be initially drawn to him. Aquarius women give off confidence in themselves which essentially makes them beautiful to the Taurus man as well.
Making An Impact On Him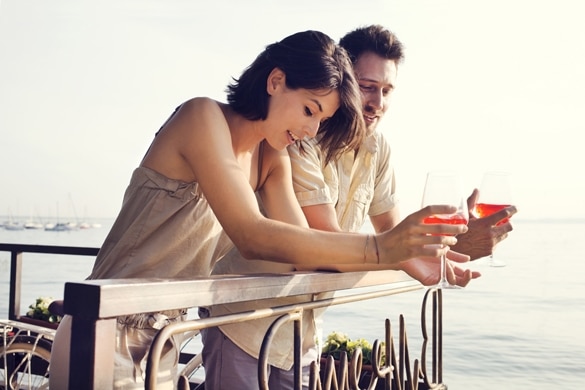 The Taurus man isn't the easiest to please. However; the Aquarius woman's desire to make intelligent conversation is a turn on. The two of them could possibly talk for hours on end.
The first night they really get into talking; they'll really find each other very interesting and alluring. He absolutely loves her confidence and her "matter of fact" attitude.
If they manage to get into the bedroom; they could have some highly interesting times. The Aquarius is very imaginative and lives on fantasy. This could lead to unrealistic expectations.
She'll need to be careful and be in the present when she's with the Taurus man. He's into what he's doing at the time and isn't thinking of fantasy. He's willing to please but it's hard to please someone whose mind is elsewhere.
If the Aquarius woman wants to please her Taurus lover; she should look him in the eyes and show him that her mind is nowhere else but right where they are at that moment.
The pleasure will be there between them. This is one of those relationships that can start out physical and then slowly build into something else. Neither of them is into hurrying to the commitment finish line.
Working To Prove To Each Other
Both the Taurus man and the Aquarius woman are people that take their time at getting to know someone as well as committing to someone. The Aquarius doesn't particularly care for commitment until they are 100% sure.
The Taurus man is also one to wait until he is certain that there is enough there between them to become immersed in a full blown relationship. One may be ready sooner than the other which at times; can cause conflict.
If one wants a relationship and the other still isn't sure, this could cause impatience and one will end up snapping and deciding that it's not worth it. The question is; which one will it be?
Taurus isn't one to initiate break ups or "let's call this off" type of guy. Aquarius would rather Taurus give up and call it quits than for her to admit she isn't into it anymore.
If either or both of them decides that they would like to actually explore having more than just a friendly getting to know each other romp; they will have to work at it. Aquarius will have to speak her mind if she's ready.
The Taurus man will have to give the Aquarius woman some sort of sign if she's ready. Both are headstrong and both believe the other should initialize things. It doesn't work that way though.
One of them is going to have to bend in order for things to get started. If they cannot get it together; this relationship may never happen.
Ultimately Taurus will want Aquarius to prove that she can be the stable partner he craves. The Taurus man will have to prove to the Aquarius woman that he will allow her to have her personal freedom while together.
Not The Best Mix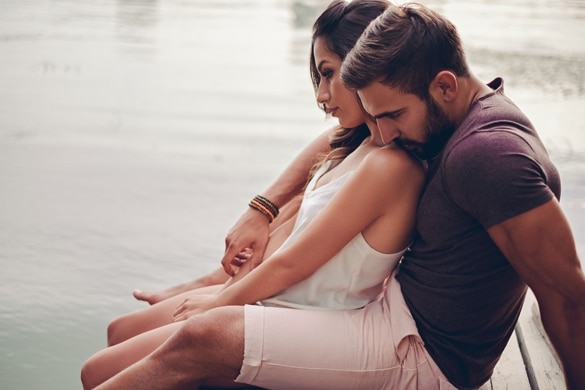 These may not be the best mix where the zodiac is concerned. They're both very stubborn and have a hard time communicating on important things. They have a hard time getting a relationship started with each other.
If they do successfully start a relationship; they may have a hard time compromising and keeping it going successfully. It's not impossible but it's not easy either.
The two of them would have to put in a whole lot of effort, communication, and hard work in order for a long term relationship to survive. The Taurus man will have to bend and allow the Aquarius to do what she loves.
The Aquarius woman will have to allow the Taurus to do what he loves best also. That means that sometimes the Aquarius woman will have to go out with her friends without her Taurus man. He will have to be ok with this happening.
They could actually make it work if they can prove to each other that they truly love one another and can handle their differences. It will take time and a whole lot of patience.
The Aquarius woman isn't good with patience and may fly off the handle when it comes to Taurus and his dragging of the feet. Again, nothing is impossible and there are good qualities about each of these signs that could benefit each other.
The thing is; they have to learn to love their differences or at least accept them so that they can continue being who they are but while they are also busy loving each other.
The very best thing and Aquarius woman can do before getting involved with a Taurus man is by getting to know who he is at the core. Learn all there is to learn about a Taurus. You'll be able to get a handle on him better.
If you're ready to understand more about how compatible are Taurus man and Aquarius woman, check out my brand new Taurus Man and Aquarius Woman Love Compatibility Guide, and if you want to catch him and keep him click here to learn more about Taurus Man Secrets.
---
---