Having a Taurus in your life is a major bonus, so congrats! You've landed yourself one of the best keepers in the zodiac. They're loyal, sweet, supportive, and trustworthy—your rock when you need them. But saying "I love you" is only the beginning; if you want to keep a hold on your Bull, here are a few ways to show him your heart.
Clean Up Nice—But Not Too Nice
A Bull isn't superficial, per se—let's leave that to their astrological neighbors, the Geminis. But since Taurus is ruled by Venus, goddess of beauty and harmony, they're hardwired to love anything easy on the eyes. 
Physical attraction is important to this Earth sign, but it originates from a primal, animal place. He appreciates healthy, touchable, natural beauty—a girl who takes care of herself but doesn't have to try. 
Looking "done up" with caked-on makeup and stiff, lacquered locks isn't necessary. If you smell good, brush your hair, and roll on some lip gloss and mascara, that's all you really need! 
Tauruses are all about the essentials. They love to see you in elegant, classic, unfussy clothes that cut a nice silhouette. 
When paying a visit to your Taurus sweetheart, just throw on your favorite pair of good jeans and a clean, soft tee that fits you just right. And on lazy weekend mornings, he'll definitely love seeing you loll around drinking coffee in his boxers and shirts. 
You don't always have to look perfect with this fellow, as long as you're fresh, relaxed, and being yourself.
Touch Him—Often
Bulls are creatures of the body. They love what they can feel in the here and now. To be touched is to feel rooted and cared for. 
Cuddle with him on the couch and spoon as you fall asleep. Scratch his head, hold his hand, and, best of all, rub his shoulders and his neck (the part of the anatomy that is ruled by Taurus). 
You can and should do this as often as you can, as it's one of his foremost love languages. 
If it's a special occasion, double down by booking a long, luxurious couples' massage at a deluxe spa.  
Taurus is not the most verbal of signs, so communicating through touch is one of the best ways to show him how you're feeling. And vice-versa—if he's constantly in your bubble, you can bet that his feelings are strong.
Eat Delicious Food Together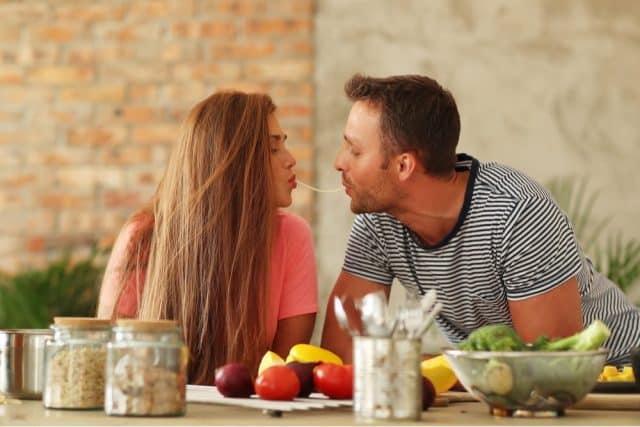 They always say that the way to a man's heart is through his stomach. And for the Taurus man, that old kernel of wisdom is spot on. 
Taurus men love a good meal—comfort food and hearty staples generally top the list, but if it's both beautiful and home-cooked, you get brownie points (no pun intended). And nothing says love like cooking for your sweetie, as long as he agrees to do the dishes! 
If you're going out, know that the art of cuisine—where attractive meets appetizing!—always intrigues the Bull. But keep it authentic—perfection won't stoke his appetite as much as, say, the caramel color of sautéed garlic or the spatula marks in fudgy homemade frosting. 
Natural and tangible are the rules of thumb, so try food that you can eat with your hands, such as Ethiopian, barbecue, or pizza. Being able to feed each other is a huge plus for any romantic meal between you and your Taurus guy.
Let Him Feel Important
When they say that Taurus is possessive, it doesn't necessarily mean "jealous" (although many Tauruses can be!). The phrase that embodies their sign is "I have." 
Taureans like to know the place of everything within their comfy universe, and having a sense of belonging with his beloved makes him feel secure and seen. This doesn't mean that you have to make a lifelong commitment—it could even be a friendly bond. 
Give him your full attention when you're together—put your phone down, look him in the eyes, and really listen for his answers when you ask how he's doing. Tell him you're his girl, and let him help you with the heavy lifting, whether it's furniture or feelings. 
He wants to be able to show you his strength and capability and wants to be your shelter in the storm. He's great at it, so you may as well let him. 
Tauruses also are adept at working with their hands. If you need something fixed, moved, or assembled, he'd be happy to help you.
Give a Luxe, Thoughtful Gift
And I don't mean you have to spend a lot of money to get something of quality! 
For Taurus, the concept of quality reflects how much meaning it has to them, how practical or sturdy and classic it is. They're not really interested in what's hot if it's just going to fall apart in a month. 
If there's something he's been eyeing or dropping hints about for a while, no need to get creative—just get it for him. Tauruses tend to like what they can hold and understand in the here and now. 
He'll dig anything designed with his comfort in mind, such as soft cashmere blankets, sheepskin slippers, and terrycloth robes. He loves things for the home—particularly the kitchen—especially if they're time-tested standards in both form and function. 
A solid wood knife block, an Italian stovetop percolator, or a splendidly packaged set of smoked salts would all delight a Taurus man. He'd also appreciate tickets to see his favorite band in a beautiful, intimate setting like a historic club or natural amphitheater. 
If you're truly broke, remember that many Tauruses appreciate a fragrant bouquet of fresh flowers or a homemade love note.  And he'd always appreciate quality time together doing something peaceful, like having a picnic in a lush green park. 
Taurus is good at giving and reciprocity and can recognize generosity no matter how much is spent.
Read next: 5 Ways To Tell If There's A Future With Your Taurus Man
Keep It Steady
Tauruses really don't like surprises, upheaval, or drama. If you're inconsistent, prone to displays, or unfaithful, a Taurus man will balk. 
Bull guys don't mind a challenge, but they like to be comfortable, and they like to be sure of people and situations. Slow and steady absolutely wins the race with this one! 
He wants to be sure of your feelings just as much as he wants to be sure of his. Match his pace and he'll grow to trust you.  
For starters, show up on time and come through for him when hard times hit.  Remember his hopes and swear silence on his secrets. Make promises—he loves this—and then keep them. 
Perhaps because of their Venusian nature, Tauruses love the soft approach, and they appreciate vulnerability, even if they are slow to show it themselves. 
Be kind to him, show forgiveness, and be open with the gift of your affection. Plan evenings that give you time and space to connect and really enjoy each other. When you're ready, introduce him to your close friends and family. 
Belonging to one of the more stability- and commitment-oriented signs, he wants to know that you can truly be a part of each other's lives. 
What are your favorite ways to show your Taurus guy love? Tell us your story in the comments below!
In case you're wondering if you two are built to last, you can test your compatibility with my calculator: https://annakovach.com/start-quiz/
---
---