Taurus men, the consummate lovers of the Zodiac, the man who knows how to make a woman feel loved and cared for. The steady, solitary rock that can provide stability to any woman. I mean, what more could you want from a man?
Sure, he's a simple creature and loves his routine, but isn't that what we all strive for in a relationship? Someone who can make us feel safe, secure, and incredibly loved? This is exactly what a Taurus man can provide for a woman.
But how can you make this exquisite man fall for you? What does he love and what does he want in a relationship with a woman? These are all the questions you might wonder when you meet a Taurus man who you have your eye on.
He's such an interesting, yet stable person. He knows so much about art, nature, cooking, culture, etc., but then he's also so talented at making money and is incredibly hard-working. A Taurus man is everything a woman could ever want.
So, let's move through the steps and see how we can make your Taurus man fall in love with you!
What Makes A Taurus Man Fall In Love With You?
For a Taurus to fall in love with someone is no simple task. Everything needs to be just perfect. This guy might be laid back and down to earth, but he definitely knows what he wants from a love relationship.
He needs a woman to tick all of his boxes, from her beauty to her trustworthiness, to the way she loves him. All of this needs to be just right to make an impression on him. A Taurus man likes what he likes and is quite stubborn about it!
How To Make A Taurus Man Fall In Love With You
1. Your Beauty And Charm
A Taurus man is one of the most sensual signs in the Zodiac. This guy knows a beautiful thing when he sees it – this must be because his sign is ruled by the planet of Venus which governs everything pleasant like beauty, art, love, and romance. 
He is zoned in on finding gorgeous things. When he sees something beautiful, he is going to be really drawn in by it and this is why a Taurus man will place quite a large emphasis on his woman's physical appearance. 
He adores being with someone beautiful, but it isn't purely for shallow reasons only. For a Taurus man, a woman who takes pride in her appearance is quite an attractive attribute. It means that she cares deeply about the image she portrays to the world. 
And say what you will, but appearances are everything when it comes to life. People will judge you for the way you look whether you like it or not. So, putting your best foot forward isn't gonna hurt, and your Taurus man will be extremely happy because he gets to look at and appreciate you for being so gorgeous.
2. Your Reliability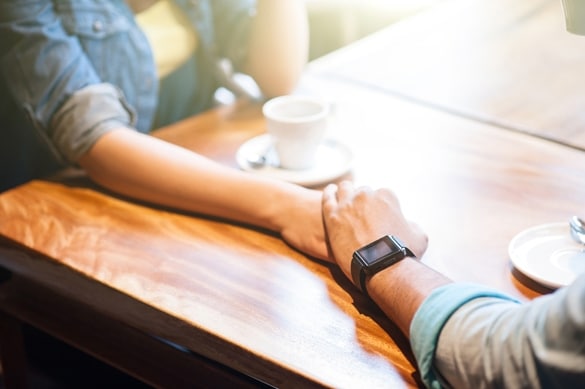 The most interesting thing about a Taurus man is probably how insecure he can become, especially when he is in love with someone. He will go out of his way to make sure that everything stays the same between the two of you.
When the slightest thing feels off, it might make him feel quite insecure in the relationship. This is why he needs someone who is incredibly reliable and trustworthy. He wants to be with a woman who does exactly what she says she will.
Dependability is something a Taurus man finds quite sexy; he wants to know that he can rely on his partner for anything. All a Taurus man truly cares about is the stability and security of his life and if his partner is contributing to this or taking it away from him.
3. The Way You Reassure Him
He may seem calm and unflappable to you at first, but you should be aware that Mr. Taurus needs to feel secure to open up to love. He needs to know that you support him completely and will always have his back. Any sign that he cannot trust you, or any interest you show in other men, will be locked away in his vault of grudges for forever and a day.
He also appreciates a sense of knowing that you have a clear plan for your life and that you can be practical and support his plans. He can be very generous and supportive when you are in a crisis, but if his first impression is that your life is a mess, he may not stick around for long.
He is at his worst when he feels unappreciated or undervalued, and trust me, you don't want to see how manipulative or cold he can be when he feels hurt or deceived. You need to constantly reassure this man with lots of compliments, affectionate attention, and silly little gifts that prove your love.
4. Your Sensuality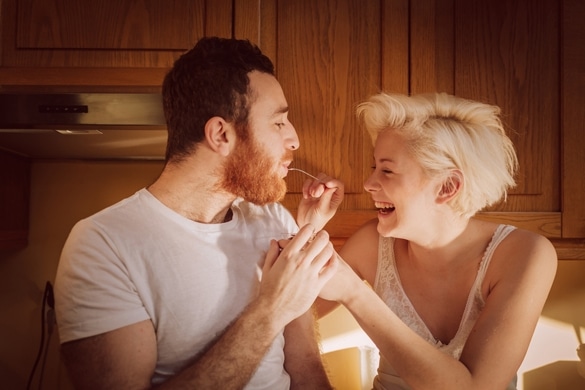 A Taurus man responds very well to old-fashioned romance, as long as you let him think or feel that he is in control. Sex is important to him, and if you let him know just how much he turns you on, he will blossom and thrive. If he is not sure of your affections, the opposite will occur and you may be left wondering if he likes you at all.
Win him over with lovely flowers, fresh sensual fragrances, massages, and candles, and make sure you give him lots of affection and pampering. He needs a constant supply of good old-fashioned romance and reassurance, and who doesn't?
This relationship will continue to grow stronger if you focus on the sensual aspect of this union. Make each other feel good and be affectionate. Your Taurus man will love this, and so will you!
5. Making Him Feel Like A King
The key to unlocking a Taurus man's heart is through feeding him delicious homemade meals, surrounding him with things of beauty, and playing his favorite music. He prizes quality over quantity to being thoughtful, and researching what he likes will always score you lots of points.
Showing your Taurus man that you took the extra bit of effort to put into him will definitely go a long way. He wants to be with someone who is thoughtful and goes that extra mile to make him feel satisfied.
When you notice the little things about your Taurus man, it will make him feel special and loved. He needs to know that his woman truly understands him. All a Taurus man really wants is to feel seen and understood.
Show genuine interest in his work, his goals, his interests, and his long-term plans, and resist the urge to talk only about yourself. This will get him to relax, let down his defenses, and start the process of falling completely in love.
Bonus Tip: How To Make A Taurus Man Fall In Love With You Based On Your Sign
No two signs are alike and that means that no two people love and want to be loved in the same way. Luckily, with Astrology, understanding this can become a lot simpler and more straightforward.
Continue reading if you would like to understand more on how to make a Taurus man fall in love with you based on your sign.
How To Make A Taurus Man Fall In Love With An Aries Woman
An Aries woman knows what she wants. She has a lot of passion and fire and when she sees something she likes, she goes for it – no questions asked! She's a firecracker with quite a lot of personality, and sometimes she might be a little too intense for our calm and collected Taurus.
However, a Taurus man is secretly turned on by an Aries woman's passion. She has an innate sensuality and she takes command of her body. This really turns the Taurus man on. He is mesmerized by her confidence and willingness to act. An Aries woman definitely knows how to push a Taurus man out of his comfort zone.
How To Make A Taurus Man Fall In Love With A Taurus Woman
Two peas in a pod! When it comes to making a Taurus man fall in love with a Taurus woman, it is simple; just be yourself! As a Taurus woman, you exemplify everything a Taurus man wants in a relationship. You are sensual, steady, reliable, passionate, and very romantic.
Just be you and your Taurus man will be attracted to your essence. But it really wouldn't hurt if you cooked him a home-cooked meal and showed off your culinary talents. When it comes to matters of the heart, it certainly comes from the stomach with a Taurus man.
How To Make A Taurus Man Fall In Love With A Gemini Woman
The dynamic between a Taurus man and a Gemini woman is definitely interesting. The two of you are opposites attract, that is for certain. You just love in very different ways, but this means that there is just so much more potential for the two of you to learn from one another.
Gemini, you are a fascinating lady, show your Taurus your smarts and how much you know about the world, but especially make sure that you show off your skills and know-how when it comes to art and culture. Your Taurus man will find this endlessly fascinating.
How To Make A Taurus Man Fall In Love With A Cancer Woman
Cancer, you are one of the most nurturing and heart-warming women around. You know exactly what to do to make your Taurus man feel like a beloved king. The two of you just seem to speak the same kind of language, which makes it very easy to make him fall in love with you.
Show him how caring, considerate, reliable, and loving you are. All you really need to do to woo your Taurus man is to be your ultra-feminine self and make him feel like a strong man. You have a way of awakening something raw within him – so nurture that.
How To Make A Taurus Man Fall In Love With A Leo Woman
There is something quite similar between you and your Taurus man. The two of you love being treated like royalty and really enjoy being pampered and adored. If you want your Taurus man to fall in love with you, then you should put him on a pedestal and make him understand how wonderful you think he is.
Make him feel special and desired. This will reassure him of the feelings you have for him. There is nothing a Taurus man loves more than loyalty and you definitely have a way of showing it. Be there for him, and he will love you forever.
How To Make A Taurus Man Fall In Love With A Virgo Woman
When two earth signs come together, then it is something really special. You and your Taurus man speak the same language when it comes to love. Virgo, all you really need to do is be yourself, that is enough for your Taurus.
He already admires your diligence, sensuality, and pragmatism. When your Taurus man is around you, he feels safe and like he can be himself, and that is more than enough to make him happy.
How To Make A Taurus Man Fall In Love With A Libra Woman
Libra, you and your Taurus man are some of the most romantic and sensual signs in the Zodiac. What the two of you have is really special. For your Taurus man to fall in love with you, you are going to have to shower him with love and affection.
Libra, you are naturally quite flirty, so you need to temper that a bit when you are around your Taurus and other people. But just be your peaceful and beauty-loving self and your Taurus will quickly recognize the similarities between you and that you are someone who takes love very seriously.
How To Make A Taurus Man Fall In Love With A Scorpio Woman
You really need not try too hard to win over your Taurus man, Scorpio. He is in awe of you, no matter what you do. The two of you have an attraction and a spark that speaks for itself. The chemistry you have is insane.
Just be your alluring and mysterious self and your Taurus man will be smitten. He just loves the intensity and seriousness you bring to the relationship. He wants the type of devotion only you can bring.
How To Make A Taurus Man Fall In Love With A Sagittarius Woman
All the hard work can make your Taurus man a little boring, but when you enter his life, you have a profound effect on him, Sagittarius. You are meant to shake things up for him and show him that there is life beyond routine and discipline.
To make a Taurus man fall for you, you need to appeal to his love of indulgence and enjoyment. Both of you really love pleasure, so show him a good time and your Taurus man will be putty in your hands forever.
How To Make A Taurus Man Fall In Love With A Capricorn Woman
There is a natural attraction you and your Taurus man share. Both of you are hardworking and reliable individuals. In a relationship, you both want someone serious and who is thinking about the long-term.
All you really need to do to make your Taurus man fall for you is to be yourself and show how reliable and trustworthy you are as a person. He will quickly come to recognize that you are everything and more he could ever want in a relationship.
How To Make A Taurus Man Fall In Love With An Aquarius Woman
You and your Taurus man certainly make an intriguing couple. The two of you are nothing alike, but this is what makes this relationship so fascinating. There is so much you can learn from each other, but first, you are going to need to find some common ground to connect over.
Show your Taurus man how reliable and stable you are, despite being quite unique and different. You can still be a solid person, even if you are a little strange and it is about time that someone taught Taurus this lesson!
How To Make A Taurus Man Fall In Love With A Pisces Woman
This is a dream come true relationship. The potential for love is huge between you and your Taurus man. He simply loves the tender, compassionate love that you show him. No one knows quite how to love him as you do.
He adores your sensuality, your sense of romance, and the profound way you see love and relationships. He wants what you have to offer him, so just be yourself and let your Taurus man come to you of his own volition. Just be patient.
Conclusion
Making a Taurus man fall in love with you is pretty simple.
He is a straightforward guy.
Being with a Taurus man can be a totally new experience, he is so calm and loving.
You have never felt like this about anyone…
This man speaks to your soul, and you feel such a deep connection with him!
These men are some of the most desirable in the whole Zodiac.
He is sexy, smart, and incredibly devoted.
So, it makes a lot of sense why you are so drawn to your Taurus man.
He makes you feel like the most amazing woman in the world!
However, things seem to be going askew with the two of you…
But how can you know what went wrong?
What did you do?
There is so much to uncover when you make your Taurus man angry.
It is like he becomes a different person, totally unwilling to forgive you…
It is crucial that you understand what you need to avoid so that you don't make your Taurus man angry.
You love him so much, and this is the last thing you wanted to happen!
It is such a pity that recently it seems like he is trying to actively avoid you…
You once thought he was in love with you, but suddenly he is acting all strange…
Whenever you reach out and try to speak to him you are met with silence or short replies…
The faster he pulls away the more it just breaks your heart…
You just can't seem to understand why your Taurus man keeps ignoring you…
You are sure that you didn't do something wrong!
And when you ask him, he says it is nothing…
But you know deep down in your gut that this just isn't true…
Why can't he just be honest with you so that you can fix it?
He is pulling away, and you know it!
If only there was something you could do to repair the relationship to its former glory…
You would do anything in the world to have your Taurus man look at you the way he once did…
You love him with all your heart and you want to fix what is broken…
< — click here for more information
There are definitely ways that you can turn all of this around and make your Taurus man putty in your hands.
However, you need to be ready to commit to this change because once it has been made, then there is no going back!
There is so much you still have to learn about Taurus men and the way they respond to love and romance…
And you deserve to know this information because it can be invaluable in the way you show up in your relationships.
The relationship you have always wanted is at your fingertips…
It just depends on you if you are ready to reach out and grab it!
< — Click here to find out more on how to get the most amazing relationship with your Taurus man
Wishing you so much love and happiness.
Your friend and Relationship Astrologer,
Anna Kovach
---
---