Do you want to blossom your relationship with the Taurus man into full-fledged love? This sensual, stubborn and patient sign takes a long time to warm up – but once he's there, he's yours for life. Making this relationship the real deal with take time, patience and slowing down. Here's how to do it: 
Here's a little truth about the typical Taurus man, learnt through my years of experience as a Relationship Astrologer: every Taurus man wants to settle down. Yes, you heard right! Whatever you might think, however he may behave, this is one guy that's ready to commit. 
It just takes a whole lot of time. See, the Taurus fella is not one for change – even positive change. He's scared of rocking the boat, and it takes a while for him to trust a relationship. You need to have mountains of endurance at the beginning go this relationship – and a lot of trust! 
However, once he's yours he really is the rock in your life – reliable, study and totally committed. Here's how to make sure that your flame of love turns into a full-fledged, long-term bond: 
7 Ways To Blossom A Relationship With A Taurus Man Into A Full-Fledged Love
1. Take It Slow – Real Slow
Are you patient? Well, if not, best you learn very quickly! Taurus men do not – I repeat – do not like to be rushed. Go on, try it – you'll just see his heels digging ever deeper into the ground and his arms folding over with a very obstinate look on his face! 
If you really want to make this relationship blossom, you just have to take it really slow with him. How slow? Well, in my experience with the Taurus men, it can take up to years, sometimes. Minimum a few months, but usually, a year, two years, or even three. 
However, don't lose faith. It doesn't mean he's not interested in dating you, or that he's not committing or seeing other people. He'll be with you, properly, but for him to admit real, lasting love, well, that's what takes time. 
2. Let Him Be The One To Commit First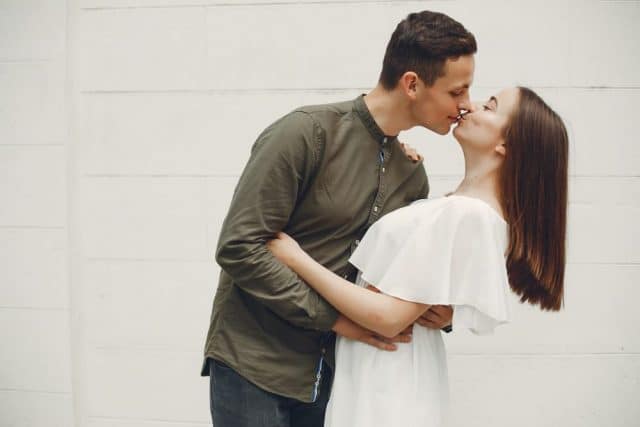 In our modern world, us ladies are able to take the lead and say what we need to say. Sometimes, we are the one proposing, or letting the guy know we're not prepared to wait too much longer to commit. 
However, with the Taurus fella, he has to be the first one to come to you and suggest being exclusive, moving in together, or getting married. It may also be wise to let him be the one to say the "L" word first, too! 
When you just allow yourself to receive, the relationship can blossom beautifully into full-fledged love! Just trust in the process, as tough as that may feel sometimes.
3. Spoil Him Often
Want to early make him stay by your side forever? Then spoil him. One of the major love languages of the Taurus fella is the giving of gifts. This can also look like taking him to restaurants and paying the bill, or giving him a lush massage. 
He loves to feel pampered and he especially loves nice "stuff." Some may say money can't buy happiness, but that's just not true for your Taurus love! Money can – and often does – buy relationship happiness. 
You don't have to go big all the time, but flowers, yummy food, a quality shirt, or a surprise dinner date will all go a long, long way to making sure that this man keeps coming back for more and more! 
4. Be Reliable And Steady

Taurus men commit to committed women. It's just that simple. If you are someone who can show yourself to be steady, reliable, and trustworthy, well, you're already halfway there! 
What does steadiness look like? It looks like showing up when you said you would, and honoring the routines you have together. It looks like not flaking out on him or doing something completely opposite to what you said you were going to do. 
Some people do find it hard to remain steady and content, so don't beat yourself up if you can't get it totally right all the time. Your Taurus guy is patient and calm enough to hold space for you when you are having a tough time. 
But just don't make him feel insecure. That is the biggest thing to keep in mind if you want to blossom your relationship! 
5. Create Romantic Routines
An absolute winner for getting a Taurus man to stay in a long-lasting relationship with you is by creating and maintaining strong, steady routines together. Routines that feel enjoyable and pleasurable, as he really loves pleasure.
For example, making every Monday night pizza and snuggles. Or every Saturday morning having breakfast as your favorite café. Involving food is a great idea, because Taurus just loves food! Also, involving sexy time is a great routine to have, too! 
You see, Taurus men love routine more than anything else. It makes them feel super safe and secure, and gives them a chance to trust the relationship completely.
6. Snuggle – Often

Snuggling is one of the things that Taurus men love the most! This is a guy that will fall in love just by snuggling enough! If you want to take this relationship a step further, be sure to hold him and cuddle him just as often as you possibly can. 
You see, some women are happy to just talk, and some of us hate feeling suffocated. If you are one of those, you may have to try and adapt a little bit to your super-physical sweetheart! And, bonus – we all know where cuddling can lead to! 
Read next: 4 Sex Positions Taurus Men Can't Get Enough Of!
7. Tantalize His Senses
Taurus is an earth sign, which means that sensual pleasure is one of his primary ways that he falls in love. Snuggling is all good and well, as is physical touch but you actually have to tantalize him to make him want more of you! 
This means dressing super sexy, smelling amazing, and cooking good food for him. Simple things, really. The Taurus man's senses are so highly attuned that anything tailored to tease him will be a winner in his books! 
Don't get lazy about it as time goes on. Instead, ramp it up by buying sexy underwear and gorgeous clothing – get your nails done, look after your hair, and wear pretty makeup. Make him dinner in the nude. Bath with him. Make him ache for you when you're not around! 
In conclusion, ladies – be patient, take it slow, seduce him and touch him, often, and use food and sexy, sweet routines to make him feel comfortable and secure with you. When he feels secure is when your relationship can blossom into a full-fledged relationship! 
Do you have a Taurus man in your life? Do any of these tips resonate with you? Have you managed to turn your relationship into something more? What was the one thing at kept him coming back to you for more? 
And you've got to take my free compatibility quiz to see if you and your Taurus man are the perfect match! You can find it right here.
I adore hearing from you, and would love if you could post your stories in the comments box below! 
Your friend and Relationship Astrologer,
Anna Kovach
---
---