It may be hard to land a Taurus man but if you know what he likes, you could very well have an amazing chance with a very solid, protective, loving man. Here are some ways the Taurus man can be lured to love.
Visual Stimulation
Taurus men love beauty in all forms. They want the woman they fall in love with and make a future with to be beautiful. Their idea of beauty can vary though.
Some Taurus men like their women all dolled up and ready for a night on the town. Then there are some of them that prefer a woman who is into nature and doesn't wear much makeup at all if any.
There are also some Taurus men that really love having a woman that is versatile. One night she can class it up and then another night she can dress down in jeans and t-shirt ready to go exploring the outdoors.
The Taurus man's moon sign may play a bigger role as far as what type of woman they're attracted to. If you're lucky enough to get their birth information you may be able to figure out what their moon is.
Either way, Taurus men love beautiful women. It does probably tell a tale if you can figure out which type your Taurus of interest may be. If he expresses interest in nature then you know he may like a relaxed beauty.
If he talks about night clubs and places like that then he may like a woman that will dress up and wear makeup paying close attention to her eyes and nails. Taurus men love pretty eyes!
Physical Attraction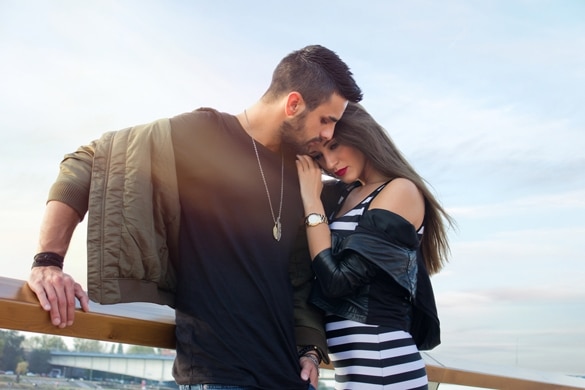 I mentioned the beauty that they like but there is also the physical aspect. You can typically tell what is going on if he touches you in some way. He will let you know for sure if he's attracted to you.
This man will talk to you very sweetly and put his hand on your shoulder or make some sort of gesture that allows him to break the physical barrier. This is his way of saying "hello, I'm definitely into you".
When he starts to fall in love though, he really digs in and starts to follow you around the house grabbing your bottom. Taurus men seem to have a weakness for a full round rear end.
Though he may be attracted from the get go, he will still likely take his time to make sure that you're the one. Love isn't something he takes for granted and will want to make the situation more secured.
While you're dating, he will be very physical but when he falls in love and is ready to settle down, he will show you a level of physical love you've never experienced before.
Talking A lot
Taurus men love to talk to the woman they are into. If you're dating one, you'll know that he spends a great deal of time texting, emailing or calling you. When he starts to fall in love, it will increase.
He will become your best friend and make sure that you don't need anyone else. They can be a bit possessive and this does increase when they fall in love. However; it's just a front to show their care.
Falling in love is no quick matter for a Taurus man. He drags his feet as he wants to be totally positive that you're going to give him what he needs. If you find that he's increasing his communication; he may be falling for you.
Ruled by Tasty Cuisine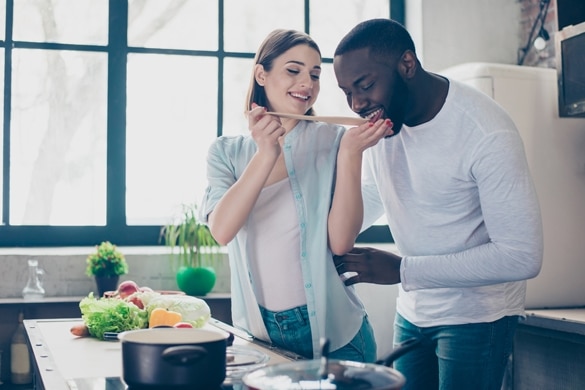 The Taurus man is easily wooed by his stomach. I know this sounds really weird but he truly enjoys food. When he starts to fall in love, you'll notice he is eating very well.
In fact, if you're the one cooking, it will be his delight and passion. His heart can be won by his stomach. If he's in love, he may start to gain weight as he doesn't hold back from eating his favorite things.
Romancing him may be easily done by cooking him his favorite meal or just by making something really delicious that has him coming back for more. Just as he is led by physical, he's also led by his internal cravings.
Find out what he really loves to eat and work at making it happen. He prefers home cooked meals but he doesn't turn his nose up at wonderful restaurants. Remember; he will always want the best.
When he's in love, he will share this with you. He will make sure to take you to the most amazing places you've ever been to. He'll make sure your palate is delighted with edible wonders.
Being Successful
Among all his other qualities, this man wants to achieve success in whatever he does. This will also mean he wants a woman who is just as driven as he is. If he finds you're more of the laid back type, he may not find you irresistible.
He wants to see a woman that truly lives for her passion like there is no other reason to live. He will fall in love with the fact that you have this burning desire inside of you to do your best at all times.
This is what would help you be his best match. He will also try his best to help you achieve your best so that you can both always get ahead in life. He will always look for ways to improve.
This is a man who will spend hours doing research on whatever his latest fascination is and trying to figure out how he can make money doing it. He wants to provide for you but he wants you to also bring your own to the table.
He wants to know you're his partner body, soul, and life. If you notice he tries to push you to take that new job or to try something new; it's because he cares and is possibly falling for you.
The simple that Taurus brings to the table is something that is easy to work with. There are other things you should consider about him. I have many other tips and facts about this steady man in my book. If you check out Taurus Man Secrets, you may get the information you need to win this guy over.
At Last! Claim Your FREE Copy of My '30 Dirty Little Secrets About Your Taurus Man' (valued at $27, yours Free)
---
---