Have you been watching a certain Taurus guy but aren't sure what to say to him to get his attention. Maybe you're nervous and uncertain what he'd really like to hear. I have some pointers that may help you get up the nerve to communicate with him.
Flirt With Him
The Taurus man likes to hear how handsome he is or how good that blue shirt looks on him. Compliment his smile or his eyes. He will be impressed by you having the nerve to speak up.
He will see it as spontaneous and probably pretty hot. Taurus men are typically very good looking and know that they are. They don't normally have tremendous egos but they do like being complimented.
If you've seen how he works, compliment him on his technique or his ideas. He will eat it right up and want to see what else you may have to say.
Give him attention. He isn't one to ask for it or necessarily need it but he will accept it nonetheless. He's still a guy and most guys like being told they're good at something or look amazing.
Talk about Food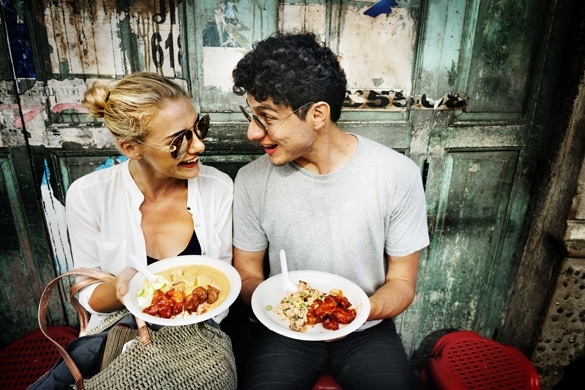 I know it sounds funny but this man REALLY loves good food. It's easy to strike up a conversation with him via discussing delicious cuisines. If you talk about the meal you cooked last night; even better!
Brag to him about the things you like to cook. He will be intrigued because one of the things he covets most is a woman who will cook for him. His heart is just about literally in his stomach.
If you don't know how to cook, you could ask him if he's been to the new restaurant down the street that has excellent tacos. If he hasn't and he takes the bait, he may then ask if you want to go with him to check them out.
You could also offer to bring him some homemade brownies or cookies. This way you seem friendly yet, he'll be interested to know why you would include him in your kindness. He loves a kind woman.
Being a sweetheart to him and offering some of your goodies will get his attention for sure. Make sure whatever you make or buy is some of the best you've had. He'll really appreciate it.
Talk about the Outdoors
This man is one that likely loves to go camping, hiking, hunting, or anything that involves him being outside in nature. If you're a nature person, you'll easily mesh with him and gain his interest.
If you aren't so much a nature person, it may be a little harder to discuss things like this but if you do your research, you could use your charm on him with what you learn.
Knowing where some amazing camping spots are or places to go on long hikes may be; you could get him interested in perhaps going to have fun in the outdoors with him.
You can also discuss animals of any kind with him. He'll appreciate it as he loves everything about nature including critters. In fact, it's not uncommon for him to have several pets.
Maybe you can warm his heart by showing him pictures of your cat or puppy. Any type of pet you've got, he'll find it heartwarming and consider you to be a very caring person.
Be Straightforward
The Taurus man really appreciates honesty and if you're interested in him, you could just indicate to him that you are. He will love the fact that you took the time and courage to let him know.
When you talk to him, try to slide your hand across his or slide it onto his shoulder. The physical contact while you're talk to him will excite him and possibly spice up his ideas of you.
This guy isn't one of the signs that are complicated. It's easy to read a Taurus man and even easier to talk to them.
There are exceptions to the rule of course; depending on their moon sign. Most are very easy to communicate with and get to know. They're funny and fun to be with.
I've found that if you just flat out let him know you're interested, he will respond in kind. Just keep in mind, they do tend to be truthful so if you aren't someone they are interested in; they will let you know.
If he is interested, he will also respond to you in a way that there is no way you can mistake what he wants. This is one of the more stable signs of the zodiac with the men.
Look into his Sexy eyes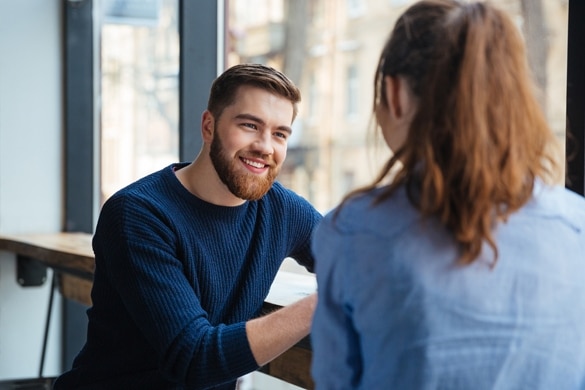 The Taurus man will love a woman to look at him seductively while she speaks to him. He'll notice and it's very likely he'll know what you're after. Believe it or not; Taurus men love pretty eyes.
He's a sucker for a pair of gorgeous eyes to look him in his. Now combine that with touching his hand, arm, or shoulder. This will drive him wild and make him want to come back for more.
Talking to a Taurus man is pretty easy. They're very cool and go with the flow. If you are able to pay attention to how he talks to others, you can pick up what he likes fairly fast.
Use it to your advantage and make conversations out of things you know he likes. You can also let him know what you like and how you'd love it if he went along with you sometime.
Be his friend
When this man commits, he wants the person that is going to be his best friend and always be there for him as he is for them. So when you're getting to know a Taurus man; pay attention.
Over time you'll know what he really likes and perhaps what he doesn't like. The more you show him that you have been paying attention, you won't regret it.
There is so much stability with the Taurus man when he commits. You may want to check out my book to find out more about this guy. The Taurus Man Secrets book gives you some pretty important tips to helping you get to know him better.
Got questions? Ask/share your story in the comment section below!
---
---