For those of you who have followed me for years now, you know how much I love Taurus men! I love them so much that I ended up marrying one and I couldn't be any happier! My Taurus man is everything I could ever want in a relationship and more.
Taurus is a feminine Earth sign, which makes men born in Taurus both gentle and fierce, strong and insecure. Ruled by Venus, a Taurus man revels in luxuries of all kinds and he will not stay in any relationship that doesn't make him feel appreciated, loved, useful, and adored.
He needs to feel comfortable and secure in a relationship, so faithfulness is a big deal to him. He also wants a comfortable, even luxurious, home and a partner who supports his practical ambitions, understands his insecurities, and shares his need to be surrounded by beautiful things.
A Taurus man thrives in long-term relationships and prefers a stable and steady commitment over short-term flings that leave him feeling empty and unfulfilled. He wants to be with someone who is just as dependable as he is. A Taurus man is truly the perfect partner.
Taurus Men In Relationships — Things To Know
If you are looking for a love that is totally devoted and loyal then look no further than a Taurus man. Being in a relationship with one of these guys can be a truly amazing experience. These guys are so wonderful at making a woman feel loved and cared for in a relationship.
They are super affectionate, stable, romantic, sensual, and above all, very committed to their relationships. A Taurus man goes above and beyond to make his woman feel loved and cared for. She will be his number one.
This relationship will feel super comfortable and you will quickly notice yourself falling into some type of routine because there is nothing your Taurus man loves more than knowing what to expect from his day.
Imagine fun evenings cooking together, cuddling up by the sofa watching tv, and then followed by some sweet and sensual lovemaking. When the relationship between you and your Taurus is good, it is amazing!
But when a Taurus man gets jealous and possessive it can feel a little intense and like you might be trapped. And that he is taking control of your life as well. It is a tricky balance the two of you need to find in order to find the bliss you are looking for in this relationship.
What A Taurus Man Wants In A Relationship — 5 Things To Remember
Have you ever wondered what does a Taurus man want in a relationship?
There are a few things every Taurus man needs to feel happy and fulfilled in a relationship. And these qualities always center around what will make him feel most stable, secure, and comfortable in his life.
Keep on reading if you would like to see if you have some of the qualities a Taurus man is looking for in a partner.
Loyalty and trust. Taurus men place a high value on loyalty and trust in a relationship. They want to be able to trust their partner completely, and they expect the same level of trust and loyalty in return.
Stability and security. Being a fixed sign, the Taurus man sticks to what they love. They are like immovable objects, and so once they've found their spot next to you, it's unlikely that they'll be eyeing other people.  You're the one they chose, after all so having feeling safe and secure is crucial.
Romance and sensuality. Taurus men are romantic and sensual by nature. They just love candlelit dinners, surprise gifts, and intimate gestures. They also place a high value on physical touch and affection, so small acts of affection such as hugs and cuddles are important to them.
Traditional roles between man and woman. Taurus men like to see themselves as decision makers and primary breadwinners and they expect from a woman to be in charge of the housekeeping and taking care of children.
Emotional maturity. A Taurus wants a woman with stable emotional responses to different challenges. They do not want someone who is temperamental. This way he will be able to form a healthy and stable relationship and handle challenges in a constructive way.
Are Taurus Men Insecure? And How To Handle Them
A Taurus man is definitely an interesting beast to understand. These guys can seem super confident and like they have everything together, but beneath all of this, there is actually quite an insecure little boy.
A Taurus man seriously hates change, and this is why he is always trying so hard to control everything around him. He wants things to stay the way they are because if something changes then it means he fails and it can leave him feeling quite terrible.
Breakups are especially hard for Taurus men. They struggle to get over that person and it may take them a really long time to recover from the heartbreak. Taurus men have a really hard time surrendering and going with the flow.
A Taurus man who doesn't work on his problems and faces his shadow side is always going to struggle with relationships.
This is when the nasty and manipulative side of him may come out. It is definitely something to look out for when dating a Taurus man. He needs to be encouraged to work on himself so that he can get over these feelings of insecurity.
But you can help him by reassuring him and telling him how much you love him and that there is no one else for you but him. He needs to see your loyalty and understand that you are in it for the long haul, just like him. Pay him compliments and let him know how amazing you think he is.
The more effort and patience you put into him, eventually it is going to pay off and he will understand that you are in it with him. Be his source of peace and he will love you forever.
Do Taurus Men Often Have Trust Issues?
You may have noticed that Taurus men actually have quite hectic trust issues. They are always second-guessing you or acting suspicious and this all stems from experiences in the past where women have deceived them in some way.
A Taurus man hates to get hurt, and that is why he is always on his guard because the times in his life when he did trust easily, he was really hurt and he never wants to feel like that again. This is why he becomes so controlling.
He also has a tendency to become quite jealous because he thinks everything is conspiring to unsettle his stability and security in life. This is why a Taurus man needs a woman to make him her top priority, this is the only thing that can really appease him.
This is probably why some Taurus men tend to be a little misogynistic and why they like traditional gender roles so much. "Being a man" makes him feel safe and like he is the boss.
How To Emotionally Connect With A Taurus Man
If you want to have a healthy relationship with your Taurus man, then you are going to have to accept the fact that you can't rush him into anything and that he needs to come around in his own time.
Taurus man values security and stability, and can be slow to trust others. So, to emotionally connect with him you need to offer stability, show your appreciation and be dependable. 
Taurus can be slow to open up and trust others, so be patient and don't push him to reveal his emotions too quickly.
When you don't pressure him, when you allow him to come to you in his own time, that's when the real magic happens for the Taurus! Keep in mind that he has long-term plans, but is a little bit scared of moving too fast, of rushing into something he might not be certain of. So above all, be patient. 
5 Ways To Support A Taurus Man Emotionally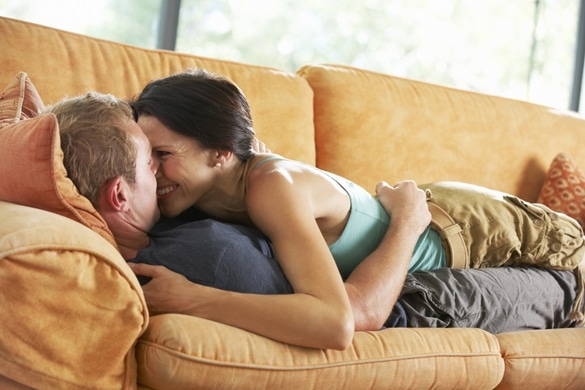 There is a lot you can do to make your Taurus man feel loved, appreciated, and stable. His needs are truthfully quite simple, and he needs the very bare minimum to be happy. The good thing about a Taurus man is that for the most part he is extremely chilled and doesn't often get riled up.
But there are moments where he might get a little sulky, and this is simply because he feels insecure and out of control. Here are a few things you can do to show him how much he means to you. This will certainly have your Taurus feel supported emotionally and make him see that you are the right woman for him.
1. Be Loyal And Caring
Your Taurus man may appear to be confident and even arrogant but he is an insecure soul whose jealousy can become extremely destructive and even violent if you give him reason to doubt you.
He may imagine you are flirting with other men or spying on you to be sure, so take time and make an extra effort to reassure him and make him trust you.
Any sign that you are restless, bored, or looking outside the relationship will eat him up for days and can turn your loving and attentive partner into a surly, calculating, and highly manipulative adversary.
A Taurus man wants your loyalty. He wants you to admire him and make it seem like he is the only man who can ever exist for you. He needs to know that he can trust you and that you won't disappear the moment things get a little difficult.
A Taurus man needs a woman who can stand by his side and be there for him at every moment.
Take the first step towards winning your Taurus man's heart and check out my 30-day Taurus Man Love Challenge. He won't be able to resist your genuine and enduring love!
2. Make Him Feel Secure
The sign of Taurus rules possessions and the accumulation of personal wealth. A successful relationship for a Taurus man is one where both partners are committed to long-term comfort, success, and security. Any threats to his routine or his possessions will be met with fierce and stubborn resistance.
He needs a partner who lets him take the lead and make decisions and one who appreciates his efforts to make your shared lives secure and comfortable. If you are careless with money or his stuff, he will brood over your thoughtlessness and become resentful.
Don't count on him changing – he won't change, and if you oppose him, be aware that Taurus can nurse a grudge for life!
3. Be Affectionate And Show Him Your Love Language
Your Taurus man is a sensual, demonstrative lover who needs to eat from a richly laden buffet of sexual and sensual pleasures to feel he has a healthy and rewarding sex life. He will pamper and adore you but don't take him for granted.
Make the effort to do the same to him, and don't be scared of expressing deepest emotions, as he will appreciate your effort and protect you in your most fragile moments.
Sharing your secret fantasies with this Bull will excite and please him, as long as he doesn't feel threatened. If you hide secrets or seem to be holding back, he will become anxious and insecure. You need to be truly naked with a Taurus man, to reap the full rewards of his immense capacity for love.
4. Live Up To His Expectations
Taurus men are traditionalists at heart and in a relationship, they expect the man and women to follow rather old-fashioned rules and roles. A Taurus man wants to be deferred to and appreciated as a leader and provider. He expects his woman to be loving, feminine, pretty, and demure. He wants a woman who shares his ideas for a beautiful and comfortable home.
A Taurus may think nothing of admiring other women but if his wife or girlfriend appears too independent or free, he will brood and become insecure and jealous. The secret here is to give him lots of affirmation and make sure he knows that you love him and do not want anyone else.
5. Make Him Feel Calm And Comfortable
As long as he feels his partner is completely committed to their relationship, the Taurus man will work very hard to make it succeed. He dislikes conflict, although once he is in one, he will be very hard to beat, as he is extraordinarily stubborn.
He is comfortable expressing his emotions but he prefers to do this in a serene and calm way. If you are given to emotional outbursts, you will see his colder side.
He wants to know that both of you are comfortable and that your relationship provides a safe place for each of you to thrive and be successful. If he feels you are keeping secrets or holding back, then he can be quite merciless and even devious in getting to the truth.
Open up to your Taurus man and tell him all your fears, and you will be surprised at how mature, loving, and supportive he can be.
How To Pamper A Taurus Man
What they say is true, a Taurus man loves to be doted on like royalty. He wants to know that he is special and cared for and this makes him feel loved and accepted more than anything else you can imagine.
If you just go all out and do special things for your Taurus man, then he will be super happy and devoted to you for a very long time to come. You may notice that when a Taurus man is in love with you, he goes all out and probably showers you with a lot of gifts and attention.
He may not say it, but he actually wants you to do the same for him. He wants you to make a bit of a fuss over him and express your love in ways that go further than just words. Show him how sensual and romantic you can be and do something special for him often and he will be elated.
Get your Taurus man to fall for you in 30 days (or give up forever)
Looking to become the ideal woman for your Taurus man, but getting frustrated with how slowly things are progressing?
Do you wish you had a magic ball to see into the future to KNOW for sure if he's "The One" for you?
It's time to stop trying to figure him out and start taking action!
Well, I have fantastic news for you!
There is a simple system that takes only 30 days and will draw him to you like a magnet, getting him to fall deeply in love with you.
But if he isn't your soulmate, you will know for sure and can move on.
This powerful program will give you everything you need to know if your Taurus is your forever guy.
He WILL respond quickly to this approach if he IS the one for you, and if he doesn't, you will know in 30 days so you don't waste any more precious time.
We all know that Taurus men can be stubborn, and leave you waiting and wondering for a very long time.
But with this program, you'll have the tools to get him to commit quickly.
And if he doesn't, you'll know he isn't the right man for you and can set him loose to find your true soulmate.
So no more waiting around or playing it cool. It's time to get your Taurus man to step up or move on.
Don't miss out on the opportunity to become his dream woman in just 30 days or give up forever.
Get your answer now and start your journey towards a fulfilling and lasting relationship with your Taurus man.
XOXO,
Anna
---
---