Have you captured the eye of a Taurus man and are looking for ways to keep him missing you terribly? Maybe you're looking to make him step it up a notch or two. Check out these hints that may empower you to gain insider information on the infamous Taurus.
1. Spend time apart to spice things up
If you are constantly together he will never have time to miss you. Though he may not like it; you can try spending more time with your friends and/or family without him. Tell him you need "you" time.
Some Taurus men don't do well with it but some will depend on who they are as a person. He'd like you to be happy and successful in whatever it is that you choose to do in your life.
If you can find a time that you can spend some time apart; he will miss you. There are those Taurus that are so strong in nature that they don't want to show you how they feel. However, if he truly loves you, he will tell you "I wish you were here".
Allow him time out with his friends also. It's absolutely normal to spend some time with friends without your significant other. It's not only healthy but it should help your relationship maintain balance.
He'll love you for the freedom and he'll show you that though he had a good time without you being there; he did in fact, miss you.
2. Hold back a little on texting him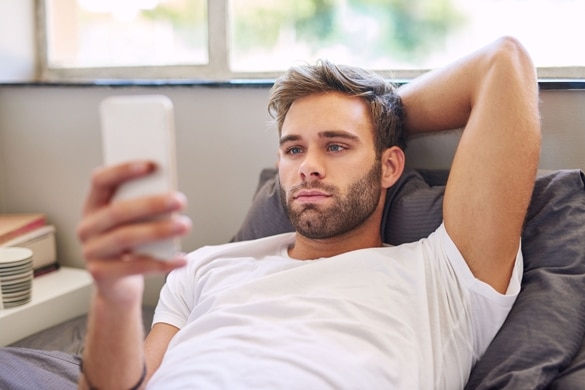 If you try not to text him as often as you'd like to, he will miss you! He does like to text a lot to stay connected with you and when you pull back just a little; he wonders if you're thinking of him at all.
It will stimulate his inner need to be the "man" and take charge. He'll let you know he misses you and cannot wait to see you again. He may also ask you if everything is Ok. It's worth the risk though right?
Having constant contact with him will make him feel a little too comfortable and have no reason at all to miss you. Rile him up a bit and grab his attention by blowing him off just a little bit.
He'll come running and want to make sure you don't get away thus romancing you.
Related: How To Flirt With A Taurus Man Over Text: With Cute And Clever Examples
3. Send him a Seductive Text or Email
While I did say to hold back a little bit; when you do finally text him or email him, make it really tasty!
It doesn't matter if you live with him or not. Sending him a very well thought out text or email that gets his motor running; he will miss you. He will want to get off work as soon as possible to get to you.
Taurus is very sexually charged so sending him attention-grabbing messages; you'll make him miss you in the worst and best way possible. He'll be wiggling and trying to contain himself until he's able to see you.
Not even kidding! If you send him something racy enough, he'll stop what he is doing and come straight to you to fulfill the urges he'll feel from what you've said to him. He will show you in person how much he misses you at that point.
4. Mark your Scent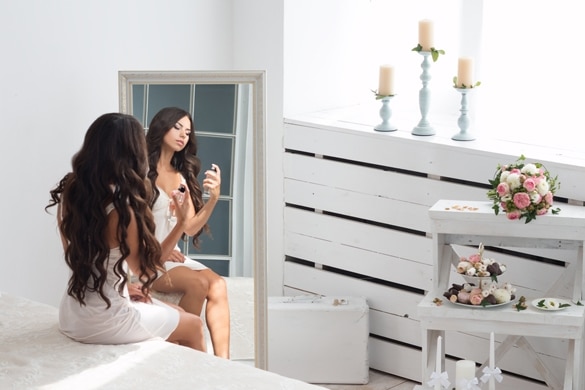 It may sound silly but men are driven by being able to smell you on their personal items. You can spray some of your perfume on his sheets, pillow or leave him a scented letter on the dresser for him to find.
Even leaving a pair of your panties under his pillow with your scent on it will drive him wild. Especially if you know you won't be there for a while. If you live with him then you'll be at work or whatever you do with your day.
He'll think about this all day and will inevitably miss you whether he wants to or not. His tendency to be all man will make him respond in ways he might not otherwise behave.
It's like the female way of marking their territory. He'll love it though! After all, he is one of the most faithful of the signs.
5. Sizzling Pictures
Without even saying a word; you could send him a sexy picture of yourself randomly. Just wait to see what he says back! He'll love it. Remember, don't overdo it though. Just once in a while.
You can do it some random time during the week and shake the time up a bit by exciting him. He'll love the spontaneous side of you and it will possibly get him to miss you.
The best thing you can do is make sure that you stay on his mind when you're not around. It's hard to achieve with a Taurus but it's still possible. Just do small things that he'll snap to thinking of you instantly.
If you don't live with him, leave him a sticky note somewhere he won't see right away like in the refrigerator. Say something witty or intellectually sexy. He'll really dig that.
My Final Thoughts
All in all once a Taurus man digs you, it's hard to make him "miss" you because he's most often with you and so there isn't a chance to make that happen. If you're dating him and not living with him yet then you can use the tips I've mentioned and spice things up a bit.
If you do live with him, the method of spending time away from him and home will help you there. He by nature loves to have some personal space and that in itself; will turn him on. You have your own life though; that will really get him.
>> Click here for more details on him.
Even if he doesn't understand it right away, he'll learn to love it and that will lead to loving you more. It will also help him to miss you. Remember that absence makes the heart grow fonder. It's all very true!
At Last! Claim Your FREE Copy of My '30 Dirty Little Secrets About Your Taurus Man' (valued at $27, yours Free)
To truly get to know the ins and outs where the Taurus man is concerned,  you'll want to grab your FREE copy of my 30 Dirty Little Secrets About Your Taurus Man here to better understand him…and create a deeper connection with him.
Wishing you so much love and happiness.
Your friend and Relationship Astrologer,
Anna Kovach
---
---