Do you want to have the best and hottest sex ever with a Taurus man? Keep reading for some sex tips with a Taurus man. You'll be surprised what you can do to ramp things up between the two of you. He is one of the best sex partners in the zodiac after all.
Exploration, Foreplay and Taurus Man Erogenous Zones
One of the most important things for a Taurus man sexually is physical connection. He can do lots and lots of foreplay because it makes him feel connected to the person he's with.
I've written an article to help you with the Taurus Man Erogenous Zones and if you haven't seen it yet, it's the perfect timing to do this now since you're already reading this article.
With this in mind, you're going to work at the areas that he's most turned on with. Nibbling and scratching are two of the things that work best with the Taurus man while doing foreplay.
He will appreciate lots of kissing, rubbing, and paying attention to his neck. There are other things you can do that will help raise the point of ecstasy for the two of you if you follow the guide I've provided for you.
Naturally he's easily aroused when you let your hands wander all over his body while you're kissing him. Most men love this but Taurus man feels the energy brewing between the two of you and it will mean more.
He will be absolutely pulled in to how you feel in his arms, how you taste, and how you smell. It's imperative to smell as good as you can. He'll appreciate that as well.
Hands off Teasing a Taurus Man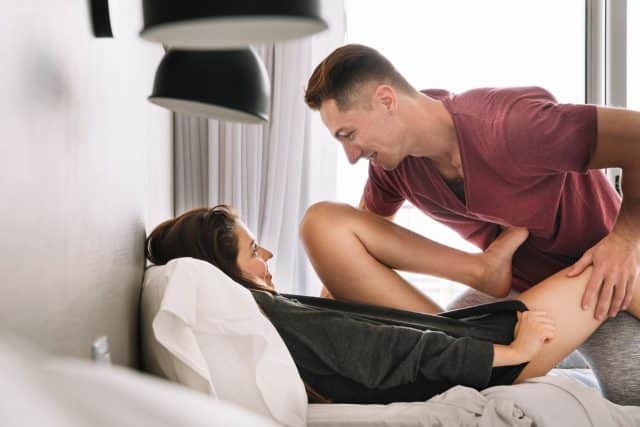 If you haven't yet had intercourse and have only been fooling around with your Taurus man, you may want to heat things up a bit by trying something different. You'll need to be very bold and get out of your comfort zone.
I'm not asking you to do anything that is degrading or will make you feel weird. Only do this if you know that you'll be into it and will help turn him on more than you can imagine.
Ok so you want to know what it is now don't you? Alright, I'll tell you right now. What you want to do is masturbate in front of him. You can totally get naked or just pull your pants off/skirt up and go for it.
I know that may sounds out of left field but trust me on this one, he will go WILD when you do this. He will think it's a gift you've bestowed upon him and he will worship you.
He knows that sharing something like that is intensely personal for most women and he will take that to mean that you trust him enough to do it in front of him. He will LOVE this.
Give it a try and see how he reacts because I'm fairly certain he will not be able to control himself when he sees you doing this. He's going to want in on the action. He does want to see you orgasm.
He may not let you finish though. He may decide to take you in order to let HIM finish the job. It will be an experience that neither of you will regret. Also something else, he may masturbate himself right next to you while watching.
It really could go either way with the Taurus man but one thing is guaranteed and that's that both of you are going to have some intense orgasms with this experience. It could even become a regular rotation with you two going forward.
Read next: Is Your Taurus Man Just Using You? 5 Warning Signs
Dirty Talk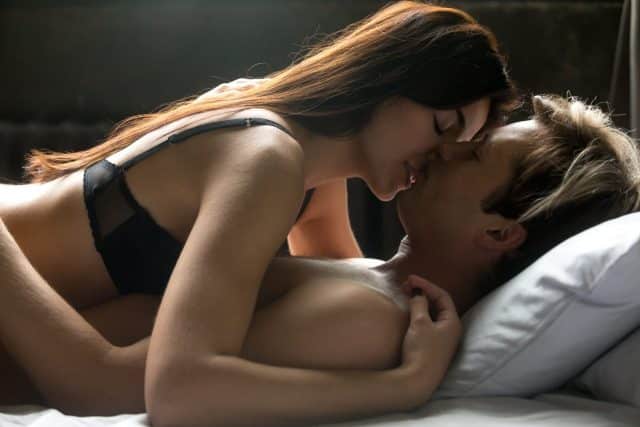 Taurus men are used to being a dominant type of dude. That being said, he normally takes control of many situations in his daily life as a leader and strong guy.
When he's in bed with a beautiful woman who has captured his attention or heart, he's going to want to lose control a bit. Not only will he respond well to you talking dirty to him, he'll get off on you telling him what to do.
Normally in life, he wouldn't want to be told what to do. In the bedroom, it's very different. Telling him to get down on his knees and orally pleasure you will blow his mind in a very good way.
He'll happily oblige. You can tell him how to do it, you can tell him what position you want or push him into the position you want him in. He will take what you dish out.
Taurus man is passionate and ready to please you if you tell him what to do and how. It's not a time to be timid or weak with him. He needs to know directly what you want and how so that he can accommodate your desires.
You can share your hottest fantasies with him as well. He'll love hearing them or about experiences you've had. Perhaps you had a threesome or had encounters with other women, he'll want to hear all about it.
When you're going through your work day, you can send him dirty texts as well. Tell him what you want him to do to you next time you two are together. Tell him what you will do to him.
Seriously ladies, I know this sounds crazy and kinky but if you want to have a very rewarding experience with your Taurus guy, this is the ticket to ecstasy train.  Get on board and get out of your comfort zone.
If you're not used to being like this, you're going to have to work past it. The Taurus man will still want to pleasure you even if you don't tell him anything but if you want to experience the best of the best, open your mouth and tell him.
Now you've got some really hot tips to work with so go for it and have the time of your life!
Share your story (or situation) with our community in the comment section below (don't worry, it's anonymous).
Wishing you all the luck of the universe
Your friend and Relationship Astrologer,
Anna Kovach
---
---